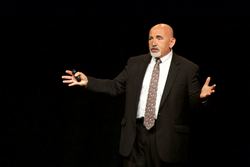 There is no limit to what we can do in schools if we support our teachers in the right way.
Lake Buena Vista, Florida (PRWEB) July 27, 2016
Dr. Dylan Wiliam, a highly respected international authority on classroom formative assessment techniques, delivered a closing keynote address to nearly 1,700 educators and leaders at Learning Sciences International's annual Building Expertise conference on Friday, June 17 in Orlando, Florida. Wiliam shared his insight into the importance of investing in teacher growth. "This job is so difficult," he said of teaching, "one lifetime is not enough to master it."
Wiliam referred to several research findings, including a 2005 study by University of Virginia researchers Hamre and Pianta, which found that, in the classrooms of the best teachers, disadvantaged students make as much progress as advantaged students. He also discussed a study by Eric Hanushek of Stanford University, who explored student achievement in the classrooms of 50 educators. Students taught by the most effective teacher learned in six months what those taught by the average teacher learned in a year. Further, Wiliam added, students taught by the least effective teacher will take two years to achieve the same amount of learning.
The answer, he suggests, is not necessarily to replace less effective teachers, but to adopt what he calls the "love the one you're with strategy" to help existing teachers improve. "It can be done, provided we focus rigorously on the things that matter, even when they're hard to do," he added.
Throughout the keynote, Wiliam explored claims and conclusions about the concept of expertise, stressing that expertise in teaching largely shares the hallmarks of expertise in other domains, and that, like people in other professions, teachers must continue to learn how to get better. "When teachers do their jobs better," he says, "their students will live longer, be healthier, and contribute more to society."
Having explored a wide-ranging body of research, Wiliam has found that formative assessment, when implemented correctly, is a crucial component of effective teacher learning. He discussed the use of Professional Learning Communities to improve formative assessment, explaining how a targeted version—Teacher Learning Communities—provides a unique structure that is ideal for collaborative groups of educators.
Wiliam also announced that he is endorsing a line of Customizable Handheld Whiteboards, available for purchase in the Learning Sciences bookstore, to strengthen teachers' use of classroom formative assessment. The paddle-shaped boards allow teachers to elicit evidence of student learning on a minute-to-minute basis to ensure that all students are meeting learning targets.
Dr. Dylan Wiliam is Executive Director of the Learning Sciences Dylan Wiliam Center. One of the world's foremost education authorities, he has helped to successfully implement classroom formative assessment in thousands of schools worldwide, including schools in the United States, Singapore, Sweden, Australia, and the United Kingdom.
Now Emeritus Professor of Educational Assessment at the Institute of Education, University of London, Wiliam has taught in urban schools and served as Dean and Head of the School of Education (and later Assistant Principal) at King's College London, Senior Research Director at the Educational Testing Service in Princeton, New Jersey, and Deputy Director (Provost) of the Institute of Education, University of London. He is the author of more than 300 books, articles, and book chapters, including two recent books published by Learning Sciences International: Leadership for Teacher Learning and Embedding Formative Assessment.
Learning Sciences International, a leading provider of professional development and performance management in education, combines research-based instructional strategies, evaluation models, and classroom monitoring techniques with advanced web-based technology to foster meaningful growth in educators and leadership. Founded by former university faculty members and researchers, the company supports schools and educational initiatives in 11 countries and serves 311,000 teachers and more than 4 million students in the United States.