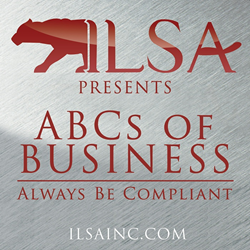 Groesbeck, Texas (PRWEB) August 24, 2016
ILSA has launched its latest digital service: ABCs of Business - Always Be Compliant, a series of podcasts featuring experts from the insurance and regulatory fields discussing not only compliance, but a wide range of challenges and opportunities facing the insurance industry.
In an effort to help answer questions, stimulate conversation, and share ideas, ILSA has reached out to industry professionals and regulators to participate in this free podcast series. The responses have been amazing. Volunteer interviewees choose their own topics for discussion; this allows them to talk about issues that truly impact them, and the industry in general. Seasoned ILSA Specialists will also be contributing discussions on topics centering on compliance issues they deal with on a daily bases, on behalf of clients. ILSA will continue reaching out to industry insiders to cover many more important industry topics over the next year.
The inaugural episode features Peter Thrane, of Stinson Leonard Street LLP, who shares his advice for dealing with state insurance regulators and what to expect from the investigative process.
In Episode 2, Dan Maher, Executive Director and Chief Operating Officer of the Excess Line Association of New York (ELANY), discusses fundamental strategies for brokers to avoid disciplinary actions and fines.
In Episode 3, Norma Essery and Tara Mitchell address a variety of "hot topics" at the Texas Surplus Lines Stamping Office, including common causes of late/incomplete filings, coverage and class codes and transaction types, diligent effort requirements, and the role of exempt commercial purchasers.
In Episode 4, Tameika Johnson and Mayra Feregrino, from the ILSA Tax Team, discuss what triggers the need for annual/biennial reports and corporate tax filings and strategies for assessing compliance status and bringing agencies into full compliance.
The podcasts are available immediately on YouTube, iTunes, Google Play, Soundcloud, and Stitcher Radio, and in September on iHeartRadio, DoubleTwist and TuneIN. A mobile app will also be available in the near future. Each 'cast is no longer than twenty minutes so listeners can fit them into their busy days, and the podcast archive will become a library of important ideas.
About ILSA:
Insurance Licensing Services of America, Inc. is a full service insurance licensing and compliance service provider offering services such as: licensing, license renewals, CE tracking, surplus lines reporting & tax filings, and a whole list of other compliance services beneficial to the insurance and financial industries, nationwide. ILSA was founded in 1997 by Ted and Arleen Taveras. To learn more about ILSA and the services they have to offer, visit their corporate website at http://www.ilsainc.com.