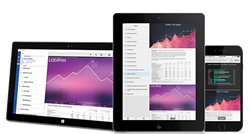 People want their applications to move with them everywhere they are regardless of the device
Lafayette, IN (PRWEB) July 27, 2016
Passageways, a global provider of secure, intuitive collaboration solutions, announced the expansion of their OnBoard board portal ecosystem to include apps for iPhones and Windows Surface tablets. The new apps join OnBoard's dedicated iPad app that thousands of directors around the world already use to prepare for board and committee meetings.
"The release of OnBoard across every iOS device and Windows 10 means that board members can review meeting materials on whatever device they prefer, anytime, anywhere," said Paroon Chadha, Co-founder and CEO of Passageways. "Having access to your board and committee materials on your phone is a profound shift we are leading. For too long board portals have relegated directors to one or two devices. We are shaking up the industry and leading the mobile revolution in this space."
The release on Windows Surface tablets has deepened Passageways and Microsoft global partnership. OnBoard is the only board portal specifically designed to take full advantage of Windows and the expanding Microsoft Surface tablet market. OnBoard stands alone as a board meeting solution that seamlessly integrates with Microsoft Office and Microsoft Outlook, driving productivity with familiar Office tools our customers already use.
"People want the experience of their applications to move with them everywhere they are regardless of the device," said David Alder, OnBoard Director of Product Management. "Together with Microsoft we are doing just that. We're bringing the very best in mobile productivity and security to more and more customers every day."
The New Apps align OnBoard across all devices, so users can enjoy the same experience on their iPad, iPhone, Windows Surface Tablet, and Desktops. Built on the same intuitive interface and Azure Security that OnBoard users have enjoyed for years. To learn more about the OnBoard board meeting solution watch the 4 Minute Demo.
OnBoard for the Windows Surface is available for download on the Windows Store.
OnBoard for the iPhone and iPad is available for download on the Apple App Store.
About Passageways:
Passageways is the leading SaaS provider of secure enterprise collaboration software. OnBoard, the world's most intuitive board portal solution works seamless across PC's, Tablets, and Phones to ensure that executives, board members, and administrators can easily produce and securely share critical, time-sensitive board information. Board Members instantly receive real-time updates to the board books and use intuitive functionality like search, notes and annotations to easily collaborate with other board members. OnSemble, is a leading enterprise-class intranet solution that makes employee collaboration easy. Learn more at http://www.passageways.com