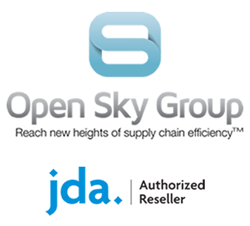 Open Sky Group has been successfully deploying JDA Warehouse Management and JDA Warehouse Labor Management for a decade...
Raleigh, NC (PRWEB) July 26, 2016
Open Sky Group, a consulting company focused on reselling and implementing Warehouse Management (WMS) and Labor software, announces it is successfully implementing the latest version of JDA Warehouse Management with its third client deployment of the year.
With a record-breaking first quarter 2016 and receiving Top Reseller of the Year, North America for 2015 sales from JDA Software, Open Sky Group is on its way to setting other company records in 2016. The customers for these warehouse management implementation projects include an international cleaning products company, a large pork processor and a global third party logistics provider.
"We have a great relationship with our partner, JDA Software, and are excited to have kicked off our third implementation of the latest version of JDA Warehouse Management for this year," says Matt Tyrrell, VP of Client Services for Open Sky Group. "JDA Warehouse Management now has a persona-based user interface and has the look and feel of very modern applications used every day on our mobile devices. As evidence of this redesign, user adoption has been faster, and the setup and configuration wizards are very well-suited to Open Sky Group's Agile-based implementation methodology. Our teams are working closely with JDA and we're on track for the go-lives of these implementations in 2016 and continuing into 2017."
"Open Sky Group has a decade of experience deploying JDA Warehouse Management and JDA Warehouse Labor Management for our joint customers and we are thrilled to partner with them on these key customer deployments," said Greg O'Sullivan, Group Vice President of Partner Alliances & Channels, JDA. "The newest version of JDA Warehouse Management has been designed to accelerate deployment times and speed time-to-value, and together with Open Sky Group, we anticipate these deployments will be up and running quickly, giving these customers a powerful WMS that bolsters their warehouse operations."
Additional Resources:

ABOUT OPEN SKY GROUP
Open Sky Group is a consulting company specializing in services for Warehouse Management System (WMS) and Labor software implementations. With highly experienced resources, Open Sky Group strives every day to be the best consulting partner on the planet for implementing Supply Chain solutions. Open Sky Group is an Authorized Reseller of JDA WMS, WLM and other add-on products.