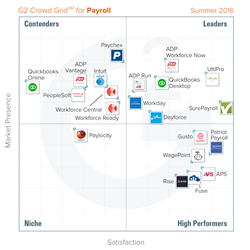 Chicago (PRWEB) July 26, 2016
G2 Crowd, the world's leading business software review platform, today released the Summer 2016 Payroll Software Grid report to help businesses make the best payroll technology decision. UltiPro, SurePayroll, ADP Workforce Now, QuickBooks Desktop, ADP RUN, Dayforce, and Workday were named Leaders in the report, receiving a strong customer satisfaction score with a large market presence.
Gusto, Patriot Payroll, APS Payroll Solution, Wagepoint, Fuse Workforce Management, and Rise were named High Performers in the report, earning strong customer satisfaction marks with smaller market presence scores. SurePayroll earned the highest overall satisfaction score, while ADP Workforce Now and Paychex tied for the highest overall market presence score.
The Grid leverages customer satisfaction data reported by authenticated users along with vendor market presence determined from social and public data. Based on a combination of these scores, each software solution is categorized as a Leader, High Performer, Contender or Niche.
Key Findings:

Importance of support — Customer support was mentioned by users of every payroll product for both positive and negative reasons. It was a polarizing topic across the category; eight products received satisfaction ratings of at least 90 percent for quality of support, and all eight were either Leaders or High Performers. Five received a satisfaction score of 75 percent or less for quality of support, and those products were all Contenders or Niche products.
Self-service satisfaction — End-users in particular stressed the importance of having access to payroll, taxes, benefits, time off, and other information via web portals. Ten products received at least a 90 percent satisfaction rating for web portal.
Implementation importance — Many administrators mentioned that payroll implementations can be complex for many reasons, including integrations to other tools, varying state laws, and more. Many said that the implementation process was more difficult than they had anticipated. Ease of setup received the lowest category average of any main satisfaction rating at 79 percent.
About the Payroll Software Grid report:
The report is based on more than 1,045 reviews written by business professionals.
Of the 67 products listed in G2 Crowd's Payroll category, the ranked products each received ten or more reviews to qualify for inclusion on the Grid.
About G2 Crowd, Inc.
G2 Crowd, the world's leading business software review platform, leverages more than 90,000 user reviews to drive better purchasing decisions. Technology buyers, investors, and analysts use the site to compare and select the best software based on peer reviews and synthesized social data. Monthly more than a half-million people visit G2 Crowd's site. Co-founded by the founder and former executives from SaaS leader BigMachines and backed by roughly $12 million in capital, G2 Crowd aims to bring authenticity and transparency to business technology research. For more information, go to G2Crowd.com.