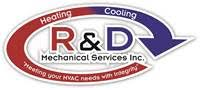 we constantly strive to serve others in everything we do
Canton, Georgia (PRWEB) July 29, 2016
R&D Mechanical Services, Inc. is proud to be the presenting race sponsor of the Hero Run 5K on Saturday, August 6th, 2016 at 7:30am. This event will be held in downtown Kennesaw and is one of the six races included in the Kennesaw Grand Prix Series. The Hero Run 5K will be professionally timed by Orion Racing and will be a sanctioned qualifying event for the world famous Peachtree Road Race. This race will also include a one-mile fun run to interest families and athletes of all levels. At last year's Hero Run 5K, there were 1,700 runners, and event coordinators are expecting more than 2,000 participants at this year's race.
The objective of this race is to raise funds to donate to local wounded veteran organizations such as the Disabled American Veterans, United Military Care, KSU's Veteran's Scholarship Fund, and Kennesaw's Veteran's Day Luncheon. The Hero Run 5K was inspired by then 17-year-old Kennesaw resident Jonathan Borden. Borden was a member of the Naval JROTC unit at the Kennesaw Mountain High School and was moved by the biographies he saw of severely wounded service men and women. These stories prompted Borden and his friends to launch the first Run for Wounded Warriors in 2010 in which over 400 runners participated. Thanks to Borden's initial efforts and the increasing attendance of runners at this annual race, the Hero Run 5K has contributed over $75,000 to the Wounded Warrior Project over the past five years.
R&D Mechanical Services, Inc. has a very special place in their heart for service men and women. Robbie Matiak, the owner of R&D Mechanical Services, Inc., explains why these events are so important to him and his organization: " am proud to say that many of my family members have served in the military including my son, Heath, his wife, Tiffany, and my father. I think we often forget about the sacrifices that our veterans make every day, even after they return home. At R&D Mechanical Services, Inc., we constantly strive to serve others in everything we do, and I couldn't think of a better way to show our support for our veterans than by publicly standing alongside so many others at events like these in unity and strength."
R&D Mechanical Services, Inc. is a family owned and operated commercial HVAC contractor. They are located in Canton, Georgia and they serve people in their places of work and home in the Metro-Atlanta area. R&D Mechanical Services, Inc. is determined to meet your HVAC needs with integrity and honesty. They operate on a culture of serving people and genuinely look forward to cultivating relationships in the community that allow them to serve others.
To learn more about the Hero Run 5K and how you can contribute please visit their website or their Facebook page.
Click here to connect with R&D Mechanical Services, Inc. and learn how you can partner with them.