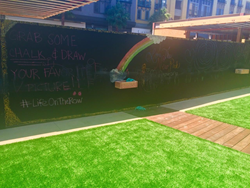 San Jose, CA (PRWEB) July 28, 2016
Santana Row is kicking off summer with its re-opening and debut of the new Park Valencia. The upgraded park provides a fun environment for all to enjoy, whether you're looking for the perfect place to shop, eat, dine or simply spend time with family and friends. Kids love the dynamic play elements (opening in August), and adults can unwind while enjoying live music on the entertainment stage. In addition, while the park continues with its upgrades, a temporary chalk wall has been installed where families can "make their mark" on Santana Row.
This August, don't miss the start of Santana Row's free Music Series on Wednesday nights from 6:00PM to 8:00PM. Enjoy a variety of tribute bands each week and experience the perfect summer evening outdoors. And the live music doesn't stop there; Park Valencia will host music every weekend, Friday through Sunday! So grab a few blankets and some friends, and get to Park Valencia for a memorable summer!
After a night of rocking out, indulge in delicious food from our Park Valencia eateries including The Counter, The Veggie Grill, Starbucks, Pluto's, Kara's Cupcakes, Roots and Rye and Maggiano's Little Italy. Plus, beat the summer heat and stop by Smitten Ice Cream opening late summer in Park Valencia. "The only thing more joyful than a park is one with ice cream!" says Smitten founder Robyn Sue Fisher. "We are so excited to be part of the renaissance of Park Valencia and Santana Row, bringing together nature, art, food & retail, and we can't wait to serve our scoops to the community." This one-of-a-kind ice cream shop features flavors that are created using liquid nitrogen which flash-freezes ice cream in order to serve the freshest treats in minutes. The 600-square foot shop will be a walk up ice cream bar surrounded by plenty of outdoor seating, a dynamic fountain and a kid's playground.
This fall, Park Valencia will also welcome a new eatery, Poke Bar. "From Hawaii to Hollywood to the Bay Area, Poke Bar is the perfect match for Park Valencia. Whether you are a business professional looking for a quick yet satisfying bite, or a family looking for a healthy yet tasty meal for everyone, come find out what all the hype is about," says co-owner Chris Lim. Poke Bar offers options for everyone including 8 different proteins, 5 different flavors, 10 different mix-ins, and plenty of toppings & sides.
For media inquiries, please contact Kelley Weaver at Melrose PR – kelley(at)melrosepr(dot)com or call 310-260-7901.
ABOUT SANTANA ROW
Santana Row is Silicon Valley's premier destination for shopping, dining, living, working and playing. Offering 1.7 million square feet of retail, office, hotel and residential, Santana Row is located in Silicon Valley, California; the hub for high-tech innovation and development. Featuring 615 luxury rental homes, 219 privately owned condos, 350,000+ square feet of Class A Office space, over 70 shops, 20 restaurants, a boutique hotel and a movie theatre. Santana Row is a property of http://www.federalrealty.com (NYSE:FRT), headquartered in Rockville, Maryland. For more information, please visit http://www.santanarow.com.