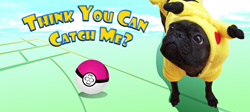 PokyDog is an online treasure hunt at BlingJewelry.com. Catch PokyDog and win jewelry!
New York, NY (PRWEB) July 26, 2016
If Pokemon Go is a scavenger hunt, then PokyDog is a treasure quest… with the prize being actual jewelry. E-commerce destination Bling Jewelry has launched a clever contest titled "Catch PokyDog" starring their fashionista French Bulldog Sasha.
Dressed as her favorite Pokemon character Pikachu, Sasha challenges visitors of BlingJewelry.com to follow clues posted on social media and find her hiding on the site. The three fastest PokyDog catchers each day of the contest win a piece of jewelry on the page where Sasha is hiding.
"Sasha is a real fashionista," explains Bling Jewelry CEO and Founder Elena Castaneda. "Some dogs may tolerate being accessorized by their owners, but Sasha truly loves to dress up with her bling and costumes." Sasha's own 21,000 Facebook fans would agree, and her playful nature shines through in this video of her backstory and transformation into PokyDog.
While physical retailers have been jumping on the Pokemon Go bandwagon, e-comm stores have been left out... until now. Bling Jewelry believes Sasha's PokyDog treasure hunt contest will be one of the most memorable online campaigns of the summer, and tie nicely into the brand's annual animal charity drive this Fall.
The Catch PokyDog contest runs from Tuesday, July 26th through Thursday, July 28th on BlingJewelry.com with full details and rules posted on the official PokyDog page.