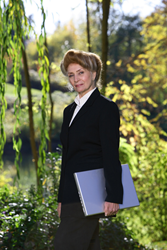 "STRESS IS THE RATE OF ADJUSTMENT IT TAKES FOR AN ORGANISM (INCLUDING ITS ORGANS AND CELLS) TO ADAPT TO A PARTICULAR ENVIRONMENT."—Dr. Mary Wingo
Grants Pass, OR (PRWEB) July 26, 2016
Bio-Logic Aqua® Research Water Life Science® founder, creator of Nature's Tears Eye Mist and radio host Sharon Kleyne welcomed Dr. Mary Wingo, Ph. D., physiologist and human stress research expert to The Sharon Kleyne Hour Power of Water, Global Warming and Your Health to explore stress and water evaporation—potent twin killers on planet earth.
Dr. Wingo (http://www.marywingo.com), author of The Impact of the Human Stress Response and a U.S. scientist and businesswoman living in Ecuador, has studied the impact of stress on living organisms since her teens. Also a business consultant and life coach, Dr. Wingo shared with Kleyne's listening audience five major causes of toxic modern stress. These include complexity (having too much on one's plate, overstimulation that releases excessive amounts of cortisone and adrenalin), loss of equality in society (causes early mortality, especially in men), loss of social capital (less communicating, fewer shared meals and events), breakdown of human physiology (inflammation of organs and skin) and chemical contaminants.
Kleyne added that all of these causes can be triggered, and frequently are, by the compromised nature of earth's water vapor, which is under attack from evaporation and pollution. Kleyne reminded her listeners that the surface of the human eye, for example, is 99% water, and Dr. Wingo joined Kleyne in enthusiastically endorsing an important remedy for Dry Eye Syndrome, Kleyne's Nature's Tears® EyeMist®,, the only personal hand-held humidifying device emitting a pure, pH balanced, 100% water mist for dry eyes. Nature's Tears Eye Mist is endorsed by more than 22,000 ophthalmologists and optometrists nationwide and was successfully test-marketed in more than 70,000 outlets.
Dr. Wingo pointed out that people are dying from stress-related causes at an alarming rate around the world. "People need to understand what stress really is," she said, "and how to cope with it."
"We all need to manage stress better," Kleyne agreed. "People must act more responsibly about their health. They must learn to relax while drinking lots of water, eating and sleeping properly, and breathing. Don't forget to breathe—in through the nose, out through the mouth to detoxify the body."
Kleyne also urged anyone interested in reducing stress to use Nature's Mist® Face of the Water® for dry skin and Bio-Med Wash® for athletic and other injuries. "They are one-of-kind solutions for water vapor evaporation," said Kleyne, "because all of these Bio-Logic Aqua® Research Water Life Science® products use only Trademark Secret tissue culture grade fresh water and nothing else."
"Water is our whole life," said Kleyne. "It's the primary building block of life, and a major reliever of stress."