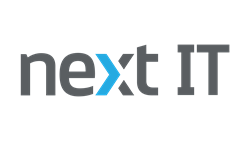 "Enterprises ultimately need choice and flexibility as they make the leap into A.I. and we're thrilled to make that a reality at all levels of the A.I. stack," said Rick Collins, president of enterprise at Next IT
Spokane, WA (PRWEB) July 26, 2016
Next IT, the intelligent interface company, today announced support for bots on Amazon, Facebook Messenger, and Twilio SMS. Developed off their conversational platform, Next IT is able to deliver their leading natural language and domain understanding directly to any bot platform. The result is enterprise-class intelligence and virtual assistance delivered anywhere, anytime.
As bots gain in popularity with businesses and end-users alike, there's increasing demand for more intelligent conversational interfaces. Bots have been designed from the ground up to be good at a single transactional task such as ordering your favorite pizza, but users quickly try to get more out of them. Next IT brings a higher-order intelligence to bots, ensuring that users get an accurate and adaptive conversational experience driving significant business value.
"Every enterprise is developing a unique A.I. strategy to address strategic business needs," said Rick Collins, president of enterprise at Next IT. "Bots are an entry point for many of these organizations, and we bridge the gap between one-off bots and the more robust enterprise solutions like Next IT offers. Enterprises ultimately need choice and flexibility as they make the leap into A.I. and we're thrilled to make that a reality at all levels of the A.I. stack."
Next IT started with Amazon, Facebook and Twilio as they are among the most widely used bot-enabled platforms on the market. The company intends to continue to expand into more bot platforms in the months ahead. Because Next IT's platform was designed for maximum extensibility in enterprise environments, they are able to rapidly develop connections to new bots, and other endpoints as they've done with traditional service channels. Since bots are generally limited to one database or web service integration, Next IT brings with it the ability to integrate with systems of record, along with an unprecedented amount of data and intelligence out of the box.
Next IT also bring a new level of control to bots. The intelligence and interactions are continually enhanced through assessing performance and end-user satisfaction, whereas most bots cannot understand if they're appropriately interpreting and responding to a user. As a result, bots are no longer limited to single use cases, and businesses can train them to know when they are satisfying business objectives alongside user experience.
"Not all intelligence is created equal," said Fred Brown, founder and CEO of Next IT. "Bots have a significant role to play in the modern enterprise and they certainly give businesses the opportunity to prove out the business value of A.I. But when it comes to critical customer interactions and make-or-break business processes, only a higher-order solution that emulates humans with advanced language modeling will get the job done. If you're new to A.I. and have some internal resources, you could start with bots, but plan to add the artificial brain power and expertise provided by Next IT."
Built on the Alme Platform, Next IT solutions include:

Precise language modeling designed and developed with human experts to guarantee outcomes and actions driving user experience, lowering end user effort and creating business value
Enterprise scalable solutions and an extensible and stable platform that can serve as the glue for outside cognitive services, APIs and connectors
Proven enterprise maintainability through a large install base, that brings with it an unprecedented amount of experience and data, as well as deep domain intelligence
The Next IT bot integrations are available today to all Next IT customers. To learn more about Next IT and the Alme platform, visit: http://www.nextit.com/
***
About Next IT
Next IT is the intelligent interface company. We deliver the right outcomes through A.I.-powered solutions for customer engagement and workforce support.
Our customers, including Alaska Airlines, Amtrak, Charter Communications, United States Citizenship and Immigration Services, and the U.S. Army, set the bar for innovation in their markets, and they trust our solutions to resolve the most challenging barriers to exceptional customer and workforce support.
Next IT is headquartered in Spokane, Washington.
Learn more at http://www.NextIT.com