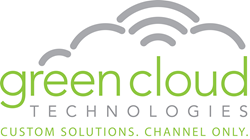 "We are excited about the momentum that the company's market strategy has demonstrated and we look forward to supporting Green Cloud's future growth plans."
Greenville, SC (PRWEB) August 01, 2016
Green Cloud Technologies, a channel only Cloud technology solutions provider, has announced the closing of $7.5mm of new financing. The package consists of a $5 million senior line of credit with Bridge Bank and $2.5mm of additional equity and sub debt provided primarily by its existing investor base. The new capital will fund the company's expansion of its national channel partner program and acquisition capital as Green Cloud searches for tuck-in cloud or data center asset acquisitions.
According to Shay Houser, CEO of Green Cloud, "Coming off a 3-year growth rate through 2015 of 4,000% and anticipating 65% growth during 2016, the additional capital helps fund our organic growth and acquisition plans."
"We are pleased to announce our relationship with Green Cloud and our support of their continued growth" said Blake Reid, vice president and market manager Bridge Bank. "We are excited about the momentum that the company's market strategy has demonstrated and we look forward to supporting Green Cloud's future growth plans."
Recognized as SC's fastest-growing company, Green Cloud Technologies provides custom cloud solutions to an exclusive network of reseller partners. By relying on channel-only distribution, Green Cloud can focus on partner enablement without competing for end-user business. The company's expansive suite of Cisco Powered, cloud-based products, services, and support are scalable to applications of any size—from SMBs to enterprise-class organizations.
ABOUT GREEN CLOUD TECHNOLOGIES
Green Cloud Technologies provides custom Cisco-powered infrastructure, backup and recovery solutions, and virtual desktops and support to our partner network of value-added resellers, managed service providers, and select consulting organizations. Green Cloud's world-class data centers operate on industry-leading technology platforms including Cisco, VMware, and Tintri. Employee-owned and led by an executive team of industry veterans, Green Cloud is 100% channel-only, partner-focused, and customer service-driven. Headquartered in scenic Greenville, SC, Green Cloud is dedicated to environmental sustainability and carbon-neutral goals. Learn more at http://www.gogreencloud.com.
ABOUT BRIDGE BANK
Bridge Bank is a division of Western Alliance Bank, Member FDIC, the go-to bank for business in its growing markets. Bridge Bank was founded in 2001 in Silicon Valley to offer a better way to bank for small-market and middle-market businesses across many industries, as well as emerging technology companies and the private equity community. Geared to serving both venture-backed and non-venture-backed companies, Bridge Bank offers a broad scope of financial solutions including growth capital, equipment and working capital credit facilities, sustainable energy project finance, venture debt, treasury management, asset-based lending, SBA and commercial real estate loans, ESOP finance and a full line of international products and services. Based in San Jose, Bridge Bank has eight offices in major markets across the country along with Western Alliance Bank's robust national platform of specialized financial services. Western Alliance Bank is the primary subsidiary of Phoenix-based Western Alliance Bancorporation. With more than $16 billion in assets, Western Alliance Bancorporation (NYSE:WAL) is one of the fastest-growing bank holding companies in the U.S. and recognized as #10 on the Forbes 2016 "Best Banks in America" list. For more information, visit http://www.bridgebank.com.