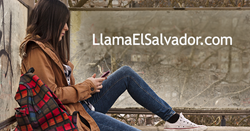 Buen servicio, hasta ahora mis familiares no han tenido problemas recibiendo el saldo ni yo enviándolo. (Norma Castillo on Trustpilot.com)
Atlanta, Georgia (PRWEB) July 27, 2016
Salvadorans abroad have now the opportunity to send free extra credit when they top up a Movistar mobile back home in El Salvador with the Mobile Recharge service on LlamaElSalvador.com. The deal is available until July 31, 2016, and the credit can be used within the following 3 days, for international calls from El Salvador to the USA and Canada, as well as for Facebook browsing and 500 MB of data usage: http://llamaelsalvador.com/buy/mobile_recharge
The special Bonus is added automatically to the number in El Salvador and applies on Mobile Recharge orders of minimum $10, made until July 31, 2016 (23:59 El Salvador time) on LlamaElSalvador.com.
The Bonus applies no matter the country the sender lives in. The basic amount as well as the Bonus reach the Movistar number in El Salvador instantly. The Bonus does not apply if the person in El Salvador is a "Planes Dinamicos" customer, and cannot be used to make domestic calls or international calls to destinations other than Canada and the USA.
To benefit from the Bonus, besides the time limit and the value of the basic top up amount (minimum of $10), one needs to have an account on LlamaElSalvador.com, which costs nothing and requires no contract, and no other obligations.
The current offer for Movistar users in El Salvador addresses everyone living abroad who's willing to support their family and friends in El Salvador with mobile credit for international calls and domestic data for Internet access.
For those whose relatives in El Salvador use a Claro, Tigo or Digicel mobile, it is important to know that there are daily and weekly promotions for top ups to these operators as well. The best way to keep updated is to subscribe to "Get offers" by email, using the button down the homepage.
Everyone who makes a purchase on LlamaElSalvador.com receives Thank You points automatically. These Thank You points can be later used to make gift calls to El Salvador when one collects a minimum of 1000. Calls to El Salvador using LlamaElSalvador.com can be made with or without Internet connection, at home or on the go, at 10.9 cents/minute (calls to Claro) or 16.9 cents/minute (landlines and mobiles in El Salvador).

Keepcalling app helps users make calls to El Salvador using a smartphone.
Access numbers are available for calls from landlines or mobile phones without Internet access.
Web Call is a desktop app in one's LlamaElSalvador.com account that facilitates calls to any phone in El Salvador from one's PC.
An account on LlamaElSalvador.com comes with a number of benefits besides the Mobile Recharge service, the Voice Credit for international calls and the Thank You points for loyal users:

The website offers the lowest rates possible on international calls to El Salvador with the Voice Credit service: 16.9 cents/minute to call landlines and mobiles in El Salvador, except for Claro numbers. Calls to Claro cost and 10.9 cents/minute.
The Voice Credit balance never expires.
There are no hidden fees on any of the products (Voice Credit, Mobile Recharge)
Free features can be activated any time to make international calls feel like local calls in terms of price and dialing standards.
Call quality is always high.
All transactions are available in the online account.
Multiple actions are possible using the same account. For example, a Salvadoran expat can buy Voice Credit for his/her international calls, and occasionally top up a mobile in El Salvador or elsewhere in the world, using the same account.
Payment is possible in any currency.
Promotions and other goodies are shared or advertised on Facebook, where the Salvadoran community is growing daily: https://www.facebook.com/LlamaElSalvador/
LlamaElSalvador.com is a simple and interactive website dedicated to the Salvadoran diaspora worldwide and their families back home. It is a brand of KeepCalling, a global telecommunications company registered in 2002 in USA. Presently, KeepCalling provides its services to hundreds of thousands of consumers and businesses, with a focus on customer satisfaction. KeepCalling has been listed by Inc 5000 as one of the fastest growing companies in the USA for 5 consecutive years. In 2015 the company registered a revenue increase of over 200% from 2011 to 2014.
LlamaElSalvador.com facilitates international top ups to other operators in El Salvador except Movistar: Claro, Tigo and Digicel. Daily and weekly promotions run on the platform dedicated to Salvadorans worldwide, who are as generous with their families and friends as any other nation on the planet in expat conditions.