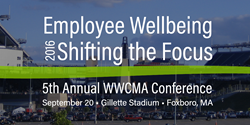 BOSTON, MA (PRWEB) July 27, 2016
The Worksite Wellness Council of Massachusetts (WWCMA) has announced the final agenda and speakers for the Fifth Annual WWCMA Conference. The conference will take place Tuesday, September 20, 2016 at Gillette Stadium in Foxborough, MA. The 2016 conference theme is "Employee Well-Being: Shifting the Focus" and will feature keynote speakers Susan Frankle, Healthways, Dan Whitter, Gallup-Heathways and the Gallup Well-Being Index, Alyssa Dver, President and founder of The American Confidence Institute, and Allen Campbell, Author and Chef. Attendees will have full access to an innovative line up of worksite wellness sessions and presenters. 
Topics and sessions include:

New Discoveries in Workplace Well-being – How to Promote a Culture of Well-being to Create High-Performance Employees
Digital Health
Career Well-being – Keys to Making Your Career Fulfilling
The Corporate Wellness / Corporate Training Connection
Defining Financial Wellness and the stages in a robust Financial Wellness Program
Kickass Confidence – The Key to Connecting and Controlling Both Mind and Body
Guided Meditation Experience: Stress Less - Learn to Meditate
Gaining the Edge on Your Physical Well-being
Obstacles or Opportunity – Empowering Yourself and Your Communities
Eating to Live in 2016
The WWCMA wellness conference is a must-attend event for employer wellness leaders and implementers who want to share their best practices, success stories, and ideas on creating employee well-being. Over 250 employers, worksite health promotion professionals, and human resource professionals will come together to learn and collaborate at one of the premier event locations in the state. Over thirty-five worksite wellness product and service providers will be exhibiting for the day.
Register today! Early bird rate in effect until July 31, 2016.
About WWCMA
The Worksite Wellness Council of Massachusetts (WWCMA) is the preeminent, independent, and objective resource for health promotion in the workplace.  A 501c3 not-for-profit member organization, WWCMA champions wellness programs that help employers encourage healthy employees, healthy families, and healthy communities across the Commonwealth. The council offers innovative wellness best practice programs, training, and events along with insightful resources and tools to help educate and advance Massachusetts organizations and their corporate wellness teams. Visit us at wwcma.org and follow us @WorkWellMass.