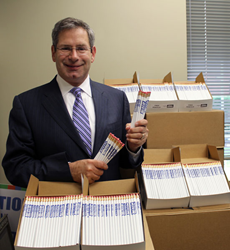 "Our firm has a great appreciation for the teachers and schools in our community. We want to show our support through this campaign." -William Mattar, Esq.
Buffalo, New York (PRWEB) July 26, 2016
As summer comes to an end, William Mattar law offices is now helping local schools gear up for the upcoming school year with the William Mattar Pencils 4 Schools Campaign. School supply needs can be a burden on teachers and parents. Many struggle to come up with the funds to support their students or children and for years William Mattar has found ways to help.
William Mattar law offices is now reaching out to local school administration offices to see what help is needed. With last year's pencil giveaway totaling over two hundred thousand pencils, William Mattar will continue to help provide the pencils needed for school work throughout the year. If you are a school administrator in need, go to WilliamMattar.com. Fill out the quick form on the Pencils 4 Schools page located in the Community Section.
About William Mattar, PC
William Mattar law offices have represented auto accident injury cases since 1990. The firm is actively involved in community events and has established a number of programs and campaigns such as the Safe & Sober Free Ride Home Program on New Year's Eve, the In the Heat, Check the Seat Campaign and the Buckle Your Belt Campaign. Learn more about the firm's community involvement, and how you can participate, by visiting http://www.WilliamMattar.com.