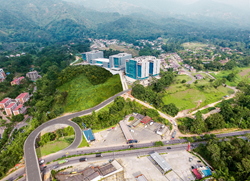 Most importantly, this is a milestone for the people of this region, who will have access close to home to high-quality, leading-edge cancer care—access that will save lives.
Pittsburgh, Pa. (PRWEB) July 27, 2016
One of the most advanced cancer centers in Colombia, developed and managed in partnership with UPMC, is preparing to open near Bucaramanga to provide care close to home for both children and adults. The new Oncology Institute is part of a recently opened 870-bed hospital owned by UPMC's long-time partner Fundación Cardiovascular de Colombia (FCV), acclaimed for its high-quality cardiac care.
The 200-bed Oncology Institute at the new Hospital Internacional de Colombia (HIC), located in the town of Piedecuesta, will provide state-of-the-art medical and radiation oncology treatments to patients who previously traveled hundreds of miles to receive such care in other regions. Colombia alone will see nearly 80,000 new cases of cancer this year, a number expected to grow to 113,000 cases annually over the next 10 years.
"UPMC is assisting us with everything from developing cancer care protocols to physician training to preparing for Joint Commission International accreditation. This collaboration will ensure that the Oncology Institute becomes the leading provider of cancer services for this region," said Victor Castillo, M.D., chairman of FCV. This partnership, he noted, builds on FCV's successful seven-year relationship in cardiology with Children's Hospital of Pittsburgh of UPMC, which includes remote monitoring of pediatric intensive care unit patients by Children's physicians.
"The opening of the Oncology Institute brings UPMC's globally renowned cancer expertise to South America for the first time," said Charles Bogosta, president of UPMC International and UPMC CancerCenter. "Most importantly, this is a milestone for the people of this region, who will have access close to home to high-quality, leading-edge cancer care—access that will save lives."
Financed and operated by FCV, the Oncology Institute includes chemotherapy and highly specialized radiotherapy services, with future plans for a bone marrow transplant unit. Additionally, the institute offers a palliative care program, counseling and nutrition services, and a pain management program.
The center houses one of South America's first Varian TrueBeam STx linear accelerators, which delivers high-dose radiation to treat the most challenging tumors, including breast, lung, prostate and head and neck cancers. The goal is to minimize disabling side effects for patients while maximizing survival.
FCV and UPMC physicians and staff will be joined for a grand opening event at the hospital on July 28, including the president of Colombia, the minister of health and other dignitaries. With the support of the Colombian government, the new hospital and cancer center are expected to create 6,000 jobs and spark economic development in the free trade zone where the facility is located.
UPMC, which operates more than 40 cancer treatment centers around the world, is acting as co-manager of the Oncology Institute and will continue to provide on-the-ground support to FCV through dedicated staff members in Colombia, supplemented by visiting staff from Pittsburgh.
Through UPMC International, UPMC shares its clinical, technological and managerial knowledge and expertise with partners around the world, customizing solutions to benefit patients and regions. The goal is to transform the delivery of health care while supporting UPMC's patient care and research mission.
# # #
About FCV
The FCV is a private, nonprofit organization in northeastern Colombia, South America, residing in Bucaramanga's Metropolitan Area, which leads cardiovascular issues in its country and is a pioneer in research. The FCV develops and manages a variety of health solutions in different areas that impact both Colombia and Latin America. This organization not only does the administration of medical services, but also develops its own surgical supplies such as sutures and disposable clothing. Its Cardiovascular Institute, located also in Bucaramanga's Metropolitan Area, is the Healthcare Service Provider (HSP) with the greatest number of recognitions and accreditations at the national and international level in Colombia. In 2005, it became the first HSP to be accredited nationally by Icontec, and in 2009 it was the first in the country to obtain international accreditation by the Joint Commission International. According to the last survey of América Economía Magazine, the Cardiovascular Institute is in the top five of the most important clinics among the Latin American health care organizations evaluated. As part of its new strategy, the FCV will expand its many specialties and services through the International Hospital of Colombia, which will have five specialized institutes and seven centers. The FCV also plans to add a set of high complexity hospitals in different regions of the country to be part of an integrated network of health services. For more information, go to http://www.fcv.org
About UPMC
A world-renowned health care provider and insurer, Pittsburgh-based UPMC is inventing new models of patient-centered, cost-effective, accountable care. It provides more than $892 million a year in benefits to its communities, including more care to the region's most vulnerable citizens than any other health care institution. The largest nongovernmental employer in Pennsylvania, UPMC integrates 60,000 employees, more than 20 hospitals, more than 500 doctors' offices and outpatient sites, and a more than 2.9 million-member Insurance Services Division, the largest medical and behavioral health services insurer in western Pennsylvania. Affiliated with the University of Pittsburgh Schools of the Health Sciences, UPMC ranks No. 13 in the prestigious U.S. News & World Report annual Honor Roll of America's Best Hospitals. UPMC Enterprises functions as the innovation and commercialization arm of UPMC while UPMC International provides hands-on health care and management services with partners in 12 countries on four continents. For more information, go to UPMC.com.