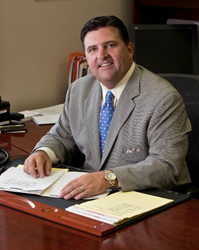 Spring, Texas (PRWEB) July 26, 2016
Lincoln Financial Network (LFN), the retail wealth management affiliate of Lincoln Financial Group (NYSE:LNC), today announced that Christopher N. Baker, principal of TexIns Solutions, LTD, has received Lincoln Financial Group's prestigious General Agency Channel "American Award" for his distinguished reputation in business and the greater community.
The American Award, one of the company's top honors, is presented each year to financial services professionals who combine business performance excellence, outstanding community service and commitment to family.
"Throughout his 12 years with our organization, Chris has demonstrated an unwavering commitment to both his clients and his family," said Stafford Moser, SVP, head of General Agency Channel distribution. "His passion is inspiring and I am humbled by his many personal and professional accomplishments."
Baker, a 30-year financial services industry veteran, founded TexIns Solutions, LTD in 2004. He joined LFN in 2004 and is a member of Lincoln's Premier Partners group, an exclusive organization of leading professionals within LFN, and serves as secretary of the Premier Partners Advisory Council. Baker is a member of the Advanced Association of Life Underwriters (AALU), the National Association of Insurance and Financial Advisors (NAIFA). In addition, he serves as past president and chairman of the Forum 400, an elite group of the top life insurance producers in the country, and serves on advisory boards for several insurance companies and agencies.
Outside of his professional accomplishments, Baker sits on the board of directors for Visionaries International, a non-profit organization founded by his parents in 1972. Visionaries International is committed to helping the helpers, caregivers, educators and builders in Christian service around the world. Baker is a financial supporter of this organization, as well as a financial supporter of the Seal Legacy Foundation.
Baker attended The United States Air Force Academy (USAFA) preparatory school and Oklahoma State University. He holds FINRA series 6 and 63 registrations.
Baker, his wife, Dana, and their daughter Bailey, reside in Montgomery, Texas. Baker's son, Brett, recently joined TexIns Solutions, LTD as vice president of sales. TexIns Solutions, LTD is located at 500 Spring Hill Drive, #240, Spring, Texas.
About Lincoln Financial Group
Lincoln Financial Group provides advice and solutions that help empower Americans to take charge of their financial lives with confidence and optimism. Today, more than 17 million customers trust our retirement, insurance and wealth protection expertise to help address their lifestyle, savings and income goals, as well as to guard against long-term care expenses. Headquartered in Radnor, Pennsylvania, Lincoln Financial Group is the marketing name for Lincoln National Corporation (NYSE:LNC) and its affiliates. The company had $220 billion in assets under management as of March 31, 2016. Learn more at: http://www.LincolnFinancial.com. Find us on Facebook, Twitter, LinkedIn and YouTube. To sign up for email alerts, please visit our Newsroom at http://newsroom.lfg.com.
About Lincoln Financial Network
Lincoln Financial Network is the marketing name for the retail sales and financial planning affiliates of Lincoln Financial Group and includes Lincoln Financial Advisors Corp. and Lincoln Financial Securities Corp., both members of FINRA and SIPC. Consisting of almost 8,500 representatives, agents, and full-service financial planners throughout the United States, Lincoln Financial Network professionals can offer financial planning and advisory services, retirement services, life products, annuities, investments, and trust services to affluent individuals, business owners, and families.