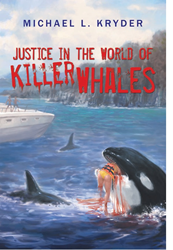 (PRWEB) July 29, 2016
Michael L. Kryder's new novel, "Justice in the World of Killer Whales," was just released earlier this summer. The gripping story is inspired by half a century of global controversy regarding killer whale – or orca – captivity and mistreatment.
"It puts man on the defensive," Kryder asserts. "I won't be surprised if the readers of 'Justice in the World of Killer Whales' end up cheering for killer whales."
As the story unfolds, killer whales begin to attack and kill people all along the California coast. Law enforcement, the Coast Guard, government agencies, marine biologists and passersby are baffled as to why. They seem to be powerless.
It is assumed the reason is because, for the past 46 years or so, killer whales have been forcefully and inhumanly captured, cruelly kept in small confined tanks, and forced to perform in shows at marine amusement parks. The killer whale pods causing the mayhem seem to be intelligent and cunning. In this novel, killer whales do a much better job of defending themselves and exacting revenge and retribution for their past inhumane capture and confinement. And they do it in the open ocean -- their own habitat.
"Justice in the World of Killer Whales" is a story of retribution and justice owed to the orca whale. It marks a turning of the tides, warning readers that what human cruelty unleashed, no man can stop.
ISBN: 978-1-4917-9595-8 (sc)
ISBN: 978-1-4917-9594-1 (e)
Author: Michael L. Kryder
mj novels
321-345-4130
Mike(at)mj-novels(dot)com
http://www.mj-novels.com
Publisher: iUniverse.
iUniverse is a self publishing company that makes it possible for writers to achieve the dream of becoming a published author. With leadership that brings expertise in publishing, sales and marketing and technology, iUniverse offers a unique mix of self-publishing products and services and the skills of a professional team dedicated to enabling authors to see their books in print. By offering a variety of affordable publishing, editorial and marketing services, iUniverse helps authors get their manuscripts off their desks and into the marketplace faster than traditional publishing companies.
iUniverse books may be ordered through booksellers, distributors (such as Ingram) or by contacting:
iUniverse
1663 Liberty Drive
Bloomington, IN 47403
800-288-4677