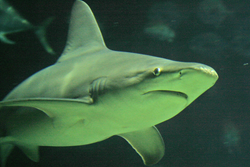 Charleston, S.C. (PRWEB) July 26, 2016
Celebrate the ocean's most fascinating predator during South Carolina Aquarium's Shark Week celebration, August 6-13, 2016. Experience eight days of fun with activities and programs that dispel the misconceptions surrounding sharks. Guests will learn more about the ocean's top predator and why it is so important to protect them, not fear them. This year the toothy celebration ends with a special Shark Week party, Dark Blue, an evening of live music, dining and dancing at the South Carolina Aquarium.
Shark Week happenings:
Get ready for some fin-tastic fun! With shark-themed dive shows, interactive shark carts and our popular Shark on the Shelf, there's excitement for every age all week long:

Be greeted by Bruce, the Aquarium's giant inflatable shark
Daily interactive animal show
Interact with experts at shark-themed dive shows
Find the "Shark on the Shelf" making a special summer appearance, and win a special toothy prize
Get your photo taken in a giant megalodon jaw
Play in the shark dress-up area
Marvel at the sharks that call the Great Ocean Tank home, including sand tiger sharks!
Dark Blue
Put on your dancing fins! Celebrate the end of Shark Week and say goodbye to summer in style with this special evening of entertainment and shaggin' on the harbor to classic beach music:

Friday, August 12, 2016 from 6-11 p.m.
Tickets prices are $30 for adults, $25 for member adults and $15 for children
There will be a cash bar and food for purchase
Local musical performances will be spread throughout the Aquarium playing at different times throughout the evening
Musical acts performing include SondorBlue, Shem Creek Boogie Band, The High Divers and DJ United
The event will feature live music and dancing, as well as the Aquarium experience and great views of the harbor
For more information on Shark Week, visit scaquarium.org or call (843) 577-FISH (3474).
Thanks in part to our Shark Week sponsor: The Post and Courier
For all media inquiries, please contact Kate Dittloff at (843) 579-8660 or kdittloff(at)scaquarium(dot)org.
About the South Carolina Aquarium:
The South Carolina Aquarium, Charleston's most visited attraction, features thousands of amazing aquatic animals from river otters and sharks to loggerhead turtles in more than 60 exhibits representing the rich biodiversity of South Carolina from the mountains to the sea. Dedicated to promoting education and conservation, the Aquarium also presents fabulous views of Charleston harbor and interactive exhibits and programs for visitors of all ages.
The South Carolina Aquarium, a 501(c) (3) not-for-profit organization and is open daily from 9 a.m. to 5 p.m. The Aquarium is closed Thanksgiving Day, half day Dec. 24 (open 9 a.m. to 1 p.m.) and Dec. 25. Admission prices are: Toddlers (2 and under) free; Youth (3-12) $17.95; Adults (13+) $24.95. The Aquarium plus the 4-D Theater experience is free for Toddlers, $22.95 for Children, $29.95 for Adults. The 4-D Theater experience only is $6.95 for Children and Adults, and free for Members. For more information call 843-720-1990 or visit scaquarium.org. Memberships are available by calling 843-577-FISH.
####