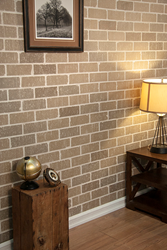 Canton, Ohio (PRWEB) August 11, 2016
Ironrock, a fifth generation, family-owned, ceramic tile and thin brick manufacturer located in Canton, Ohio is introducing a new line of thin brick veneer called Royal Thin Brick®. Royal Thin Brick is kiln fired and tumbled thin brick made from locally sourced and recycled clay and shale.
Like full bed facing brick, 5/8" thick Royal Thin Brick is extruded and fired at temperatures exceeding 2,000° Fahrenheit. The extrusion process and hard firing create a very durable product that is low absorption – vitreous. After firing, the thin bricks are tumbled to create a distressed and naturally worn appearance.
Royal Thin Brick can be installed using tile setting methods or with a thin brick installation system. Because they are low absorption and extremely durable, they can be used both indoors and out. Royal can also be used as a paving thin brick – even in heavy foot traffic areas. Royal is the perfect fit for both wall and floor installations.
Royal Thin Brick is available in queen size (2 3/4" x 7 5/8"). The queen size is taller than modular brick which helps accent the tumbled edges and give the bricks a more robust appearance. The surface of the bricks is a wire cut texture – a traditional brick finish.
There are ten colors and five blends in the color palette including beige, soft gray, brick reds, reddish browns, dark brown, and black. There are also shade variation – range – colors in the palette.
Ironrock is excited to bring the Royal Thin Brick product line to market. Royal brings a new dimension to the existing product offering, one that is sure to open up new markets and satisfy the need for well-designed and durable decorative thin brick.
Ironrock is also the manufacturer of METROBRICK® Architectural Thin Brick and Metropolitan Ceramics® quarry tile. Ironrock is currently celebrating a 150-year history - dating back to 1866 - of brick and tile production.
For more information about Royal Thin Brick or any of the fine products of Ironrock visit their website @ http://www.ironrock.com.