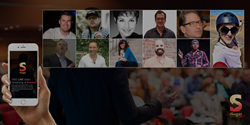 iSugar broadcasts digital event storytellers LIVE via the internet during the networking event. This means anyone from anywhere in the world can login between 10am - 4pm EST to receive valuable- positive content for FREE!
New York, New York (PRWEB) July 26, 2016
On July 30th, 2016 New York City's most iconic and influential industry leaders will unite for iSugar LIVE 2016. iSugar will stream live stage presentations from industry leaders straight to the computer or mobile device. Collaborating with the brightest minds, who represent the CEOs and tech experts of their field, iSugar inspires viewers seeking personal and professional advancement. The presentation topics will focus on today's digital market, while the opportunity to attend the live event offers the privilege of networking for ambitious professionals.
Audiences who attend the event will receive all the perks of being a live viewer. They will have access to an action-packed agenda, including the early-riser's breakfast, the studio room and the networking party. The speakers at the event are leading visionaries in their industry, providing viewers with coveted insights from their seasoned experiences. After the taping of the iSugar, the audience will rendezvous with the speakers and guests from the event to celebrate the day's activity with a four-hour cocktail party, filled with music and trendy intellectuals.
iSugar invites only the most prestigious speakers to share their knowledge at the events. The company values leaders, with a rich eye for innovation, who can motivate viewers to succeed in the tech industry. iSugar maximizes the reach of their speakers' voices by streaming their presentations from the stage to the digital cloud. In less than 25 minutes, these presentations can be watched globally.
Event Speakers:
Marc Gawith - 10:10-10:35 About the .LIVE domain extension
Bill Carmody 10:40-11:05- Influenzer Marketing
Ryan Bell - 11:10-11:35 - Virtual Reality Addict
Jessica Festa (Jessie on a Journey)- 11:40 - 12:05- How I created a successful Traveling Blog + tips on travel
Leslie Nance - 12:10-1:00- Cooking healthy + will cook for the viewers at home during lunch
Vincenzo Landino - 1:10 - 1:35- Leave your MARQ, aftermarq.com
Rick Latona - 1:40-2:05- Net Present Value Calculation
Brian Fanzo - 2:10-2:35- Summit.live
Evan Weber - 2:40-3:05- Online marketing tips that every online entrepreneur should know!
Eduardo Placer - 3:10-3:35- How to prepare to go on a LIVE stage and/or camera
Linda Janesz - 3:40-4:05- Review of the entire day
iSugar is an events agency that streams live stage presentations from industry leaders straight to people's computers or mobile devices. Founded by Jodi Chamberlain, a creative events coordinator, iSugar aims to change the way people access professional development opportunities, while celebrating live streaming in the digital universe. Jodi is motivated by the desire to offer top quality content, education and business savvy. With a passion for knocking down the conference room walls and sharing knowledge with the world, Jodi and her team bring content to the audience in the virtual space for free. Tickets available here:https://www.eventbrite.com/e/isugarlive-tickets-26082781301