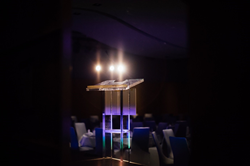 (PRWEB UK) 29 July 2016
London, 25th July 2016
The shortlist for Ethical Corporation's 7th Responsible Business Awards has been announced. The winners will be revealed and celebrated at a glamorous awards ceremony on the 30th September at the Hilton Waldorf in central London.
It's been a challenging task, drawn from over 310 entries, 118 nominees were finally shortlisted for this year's Awards.
This year's shortlist has grown primarily because 4 more categories have been added, including Sustainability Leader of the Year, Best Communications, Best Engagement Campaign (Social Media and Traditional) and Best Company.
Ethical Corporation would like to thank everyone that entered for all their hard work and efforts spent in the submissions. Please keep up your great work!
The shortlist includes:
BUSINESS STRATEGY -
SUSTAINABLE INNOVATION
TÜRK TELEKOM: Loud Steps
City Developments Limited: City Developments Limited
ABN AMRO Bank N.V.: ABN AMRO Social Impact Bonds
Hogan Lovells: HL BaSE
Ecova, Inc.: Driving Meaningful Customer Engagement through Breakthrough Digital and Analytics-Based Solutions
Banco Santander Brasil S.A.: Banco Santander Brasil S.A.
Interface: The World's First Recycled Polyvinylbutyral (PVB) Precoat
Arizona Chemical: Innovative, Bio-renewable Additive Avoids Waste and Supports Circular Economy in Road Construction
B&Q and Scott Pallets: Green Pallets
International Flavors & Fragrances Inc.: Pioneering Regenerative Products through Green Chemistry
BEST COMPANY
Interface: Mission Zero and Beyond: Interface's Commitment to Sustainablilty
Royal DSM: DSM's mission is to bring brighter lives to people today and generations to come.
AccorHotels: AccorHotels is acting for positive Hospitality
Kimberly-Clark Corporation: Kimberly-Clark Corporation
YES BANK Limited: Globalizing Responsible Banking Mindshare & Outcomes in India
International Flavors & Fragrances Inc.: Pioneering Firsts at IFF for a Sustainable Future
Mars, Incorporated: Mars, Incorporated for Best Company
The Body Shop: The Body Shop
GSUK Ltd: GSUK Ltd
VF Corporation: VF Corporation
Earth Friendly Products: Platinum level Zero Waste and Carbon neutral manufacturing
Élan Hair Design: Élan Hair Design
BEST SOCIAL ENTERPRISE
Alquity Investment Management: Best Social Enterprise
Consumer Online Foundation: Partnership for Safe Medicines (PSM) India Initiative
JCS Investments LTD: Impact Investment in Ghana the difficult alternative
Kebony: Kebony, Best Social Enterprise
Neighbourly: Neighbourly - the social network for social good
The Akshaya Patra Foundation: The Akshaya Patra Foundation – World's Largest School lunch program.
COMMUNICATIONS EXCELLENCE -
BEST SUSTAINABILITY REPORT
Lloyds Banking Group: Lloyds Banking Group Helping Britain Prosper
City Developments Limited: Best Sustainability Report
StarHub Ltd: Best Sustainability Report
MetLife: MetLife Corporate Responsibility Report - Global Impact
Newmont Mining Corporation: Reporting That Goes Beyond the Mine
American Cleaning Institute: 2015 American Cleaning Institute Sustainability Report
Lockheed Martin: The Science of Citizenship: 2015 Sustainability Report
CLP Holdings Limited: CLP Group 2014 Sustainability Report
EY UK LLP: EY EMEIA Financial Services (FS) Sustainability Report 2015
FMC Corporation: FMC Corporation 2015 Sustainability Report "Our Formula for Progress"
Novartis International AG: Novartis CR Performance Report – A fast, comprehensive and concise source of CR data for CR professionals
Millicom: Best Sustainability Report
BEST INTEGRATED REPORT
Itaú Unibanco S/A: Itaú Unibanco's case of Integrated Report
Munich Airport: Munich Airport: Integrated Report 2015
MOL Group: MOL Group's 8th Integrated Annual Report – a tradition continued
Swedfund International AB: Sustainable Business - Swedfund's Integrated Report 2015
Vancity: Strong foundations for a sustainable future - Vancity 2015 Annual Report
ING: Staying a step ahead: everything is connected
UniCredit Spa: 2015 Integrated Report: Inside Real Life. A 360 view
BEST COMMUNICATIONS
ABN AMRO Bank N.V.: ABN AMRO Human Rights Guide - our path towards respecting Human Rights
DSM: Science Can Change the World
Lloyds Banking Group: Lloyds Banking Group Helping Britain Prosper
Newmont Mining Corporation: Mining Mutual Respect and Understanding
PepsiCo: #HowWillWe
Simplot & John West Tuna: John West Australia - MSC Launch
John West Australia - MSC Launch: The Green Academy - Westfield's School of Sustainability
BEST ENGAGEMENT CAMPAIGN (social media & traditional)
Simplot: John West Australia - MSC Launch
Alquity Investment Management: Ubuntu People Campaign
MetLife: Multipliers of Prosperity
Bentall Kennedy Group: ForverGreen Tenant Engagement Program
Lloyds Banking Group: Digital Champions
StarHub Ltd: StarHub RENEW & School Green Awards
Heineken UK: Heineken UK

VALUE CHAIN SUSTAINABILITY -
BEST SUPPLIER ENGAGEMENT
Abbott: Engaging Small Holder Dairy Farmers in India
Cargill: Sustainable supply chains: the role of farmer cooperatives as platforms for sustainable development
City Developments Limited: Best Supplier Engagement
Deutsche Telekom AG: Together for Strong Brands
HP Inc.: Protecting workers and the environment with HP's SER supplier scorecard
Mondelēz International: Cocoa Life
BEST BUSINESS TO BUSINESS PARTNERSHIP
Sealed Air: Sealed Air's Soap for Hope™ Program
Heineken UK: BEST BUSINESS TO BUSINESS PARTNERSHIP
B&Q plc and Scott Pallets: Green Pallets
Banco Santander Brasil S.A.: BEST BUSINESS TO BUSINESS PARTNERSHIP
BEST BUSINESS NGO PARTNERSHIP
Kimberly-Clark Corporation: Best Business NGO Partnership
B&Q plc and Bioregional: One Planet Home
Globe Telecom, Inc.: TeamGlobe & Kiva
Hogan Lovells International LLP: Hogan Lovells and Lendwithcare: Investing in Women
Whirlpool EMEA: WHIRLPOOL & HABITAT FOR HUMANITY
UNICEF: Innovating for Impact: UNICEF and ARM partnership
GSK Plc and Save the Children UK: GSK and Save the Children partnership
WWF South Africa: WWF Woolworths Partnership
Keurig Green Mountain: Blue Harvest: Empowering coffee farmers to restore and protect their communities' water supplies
Forum for the Future: Transforming the UK energy system: The Living Grid
Clariant: The SPOTS® initiative and Wild Asia: pioneering sustainable palm oil
M&S and WWF: Best Business NGO Partnership
MOST EFFECTIVE DOMESTIC COMMUNITY INVESTMENT
Astro Malaysia Holdings Berhad: ASTRO KASIH LIFELONG LEARNING INITIATIVE
Banco Santander Brasil S.A.: Banco Santander Brasil S.A.
Fundacion Tropicalia: Learning for Life in Miches: Fundación Tropicalia
General Motors: General Motors Student Corps Inspire Community
Hedcor, Inc.: Enabling country side cooperatives
Hogan Lovells: Business Class
Jerónimo Martins: Fighting Food Waste on All Fronts
Lloyds Banking Group: Digital Champions
Sky: Sky Academy
YES BANK Limited: Livelihood & Water Security
MOST EFFECTIVE INTERNATIONAL COMMUNITY INVESTMENT
Kimberly-Clark Corporation: Most Effective International Community Investment
Timberland: Empowering Haitian Farmers through Tree Planting
Sealed Air: Sealed Air's Soap for Hope™ Program
Bechtel Corporation: Building Community Trust
JetBlue: Most Effective International Community Investment
MasterCard: Most Effective International Community Investment
CBRE: Building a better future
Interface: Supporting the World's Communities through Net-Works
INTERNAL ENGAGEMENT -
BEST EMPLOYEE ENGAGEMENT
Cisco Systems: Engaging Employees for Supply Chain Sustainability Transformation
HanesBrands: Employee/Community Volunteerism at the Core of Hanes' Latin America CSR Support
Jerónimo Martins: Fighting Food Waste on All Fronts
Jet: Best Employee Engagement
RB: RB and Save the Children's Global Challenge
WNS Global Services: Best Employee Engagement
SUSTAINABILITY LEADER OF THE YEAR
Standard Life: Sustainability Leader of the Year
Jet: Sustainability Leader of the Year
Itaú Unibanco S/A: Denise Hills – Inspiring changes
BBVA: Sustainability Leader of the Year
Kimberly-Clark Corporation: Sustainability Leader of the Year
YES BANK Limited: Sustainability Leader of the Year
Cisco Systems: Leading Transformation Value Through the Supply Chain
CEO OF THE YEAR
HanesBrands, CEO
WNS Global Services, CEO
YES BANK Limited, Mr. Rana Kapoor
Hedcor, Inc., Rene B. Ronquillo
Interface, Daniel Hendrix
Fairphone, Bas Van Abel
Paramo, Nick Brown
IKEA, Peter Agnefjall
B Lab, Jay Coen Gilbert, Bart Houlahan, and Andrew Kassoy, co-founders
Danone, Emmanuel Faber
For more information about the awards, the shortlist or the dinner ceremony, contact Krina Amin on Krina.amin(at)ethicalcorp(dot)com or on +44 (0) 207 375 7508 or visit http://www.ethicalcorp.com/awards