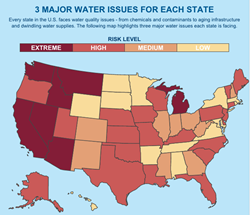 What water problems plague your home state?
(PRWEB) July 27, 2016
Pelican Water Systems, a leader in home water filtration systems, unveils a new interactive map highlighting major water concerns in each of the 50 states.
The map is the newest online tool provided by Pelican Water to help Americans better safeguard their homes and families from unsafe drinking water.
In response to the lead contamination crisis in Flint, Michigan, and with a goal of increasing water quality awareness across the country, Pelican Water researched key water issues by state. They created this innovative and interactive tool to highlight the top three water issues by state. The methodology started with a list of issues deemed high risk (i.e. lead, arsenic, water scarcity). If a state had two or more of these issues, they were classified as extreme risk, as opposed to states that had lower risk issues (i.e. fluoride, hard water, etc.) Risk levels for each state range from low to extreme, and are color-coded based on
Pelican Water remains a consumer advocate when it comes to identifying contaminants in and treating home water supplies. Pelican Water is proud to provide consumers with the industry's quickest home water testing kit, offering an analysis of home water supply in just seven days. Identifying contaminants such as total coliform (bacteria), copper, manganese, chloride, and fluoride, elements often found and highlighted on the interactive map, the Rapid Water Testing Kit provides a first line of defense against potential harmful contaminants in the home water supply.
About Pelican Water Systems
PelicanWater.com is the official, factory-direct retail website for Pelican Water Systems, providing professional knowledge and leading technologies in whole house water filtration, countertop water filtration systems, UV bacteria disinfection systems, as well as salt-free water softening and conditioning systems. Pelican Water products use cutting-edge technology and enable customers to go green by eliminating wasteful and harmful salt brine discharge that is polluting our valuable fresh water resources. Pelican Water is also proud to offer under-counter reverse osmosis systems that are small enough for practical use in RVs and marine vessels. For over a decade, Pelican Water has stayed true to their mission statement: being a company that helps families enjoy cleaner, safer, better-tasting water in their homes in an environmentally friendly way. Pelican Water has been and continues to be the global market leader in salt-free water softening systems. For more information about Pelican Water Systems, visit PelicanWater.com.