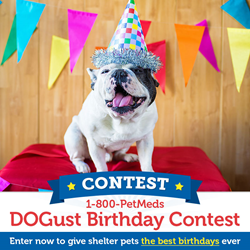 We wanted to recognize this happy day with a contest to help typically overlooked pets have the best birthdays ever by finding their forever homes
POMPANO BEACH, Fla. (PRWEB) August 01, 2016
1-800-PetMeds®, America's Largest Pet Pharmacy®, introduces the 1-800-PetMeds Cares™ DOGust Birthday Contest to celebrate the universal shelter dog birthday DOGust. 1-800-PetMeds Cares™ will sponsor the adoption fees and compose video features of several adoptable pets at the three winning 501(c)(3) animal rescue groups.
The contest, which launched today, will be open to entries through Aug. 7, 2016, at 11:59 p.m. ET. Eligible organizations are registered 501(c)(3) nonprofit groups that adopt out dogs and/or cats within the U.S.
To enter, a group representative must visit the contest webpage at http://www.petmeds.org/dogust-birthday-contest-2016/ and complete the entry form. The representative will describe how sponsored adoption fees will help the group's adoptable pets and will share the story and photo of one such pet that will benefit.
The voting period will be open Aug. 8, 2016, at 12 a.m. ET through Aug. 14, 2016, at 11:59 p.m. ET. U.S. residents 18 and older are eligible to vote once per 24 hours. The three organizations with the most votes at the end of the voting period will be named winners on or around Aug. 16, 2016.
The first-place group will receive sponsored adoption fees for 10 pets (ARV $2,000), the second-place group will receive sponsored adoption fees for five pets (ARV $1,000) and the third-place group will receive sponsored adoption fees for three pets (ARV $600). The three winners will also collect video footage of one sponsored pet each, which 1-800-PetMeds Cares™ will use to produce three video features.
The winners will be asked to choose less-adoptable dogs and/or cats for sponsorship, as they benefit the most from having sponsored adoption fees. Less-adoptable pets include, but are not limited to, adults, seniors, special-needs animals, long-term residents and bully breeds.
"A pet's birthday is an important day of celebration and unfortunately, many shelter and rescue pets come with unknown birthdays," said Erin Gleeson, outreach specialist at 1-800-PetMeds®. "DOGust is a day for all pet parents to celebrate their adopted pets' birthdays, regardless of when they actually might be. We wanted to recognize this happy day with a contest to help typically overlooked pets have the best birthdays ever by finding their forever homes."
DOGust, also known as DOGust the 1st, is celebrated each year on Aug. 1. It was introduced by the North Shore Animal League America in 2008 to recognize and celebrate shelter pets everywhere.
The DOGust Birthday Contest is run through 1-800-PetMeds Cares™, a charitable offshoot of 1-800-PetMeds® which organizes product donations to animal shelters and rescues across the U.S. and runs several annual contests, including the Change a Pet's Life Contest, to assist animal shelters and rescues. For more information on the program and to apply for a donation, visit http://www.petmeds.org.
About 1-800-PetMeds®
Founded in 1996, 1-800-PetMeds is America's Largest Pet Pharmacy and Vet-VIPPS accredited, delivering prescription and non-prescription medications, and pet supplies for less, direct to the consumer through its 1-800-PetMeds toll free number and on the Internet through its website.
###