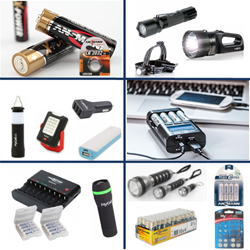 25 Years Of Product Excellence Is Now Available To The US Hardware Market
Blackwood NJ (PRWEB) August 01, 2016
After three years of defining their presence in the pro-audio market, ANSMANN USA will begin to provide their array of Mobile Energy Products to the Hardware Retail Niche.
"We've developed a very good relationship with the music and pro-audio industry" states David Schliep, National Sales Manager for ANSMANN USA. "The ANSMANN brand is synonymous with professional grade rechargeable batteries and chargers used by the likes of top talent such as Katy Perry, Cirque du Soleil, Blue Man Group, Rob Thomas and thousands of schools, churches, and universities. The time has come to expand our reach into the hardware – DIY market with our top quality mobile energy products including flashlights, work lights, general use batteries, and specialty batteries such as coin cells and solar light cells."
As Mr. Georg Schifferdecker, Managing Director of ANSMANN AG explains, "The strength of the ANSMANN brand is the depth of products we sell to this market. As the leading Mobile energy manufacturer in Germany, we can now bring this wide assortment to the US and provide 'one-stop shopping' for buyers of hardware products," says Schifferdecker. "Over the last 25 years, ANSMANN has a proven track record of product diversity and quality with a strong presence in the DIY market throughout Germany and all of Europe. Our goal is to provide the same value and competiveness to the North America market."
ANSMANN USA is located in Blackwood NJ, just "over the bridge" from Philadelphia. The warehouse stocks all products for the hardware market and is EDI compliant. Products consists of mobile light including both standard and tactical flashlights, work lights, camping lantern and more. The warehouse also carries a complete line of batteries including alkaline, lithium, rechargeable batteries (and chargers), plus specialty cells such as coin cells, CR123A, CR2 and others. A complete line of smartphone accessories including USB chargers, cables, and power banks.
For our complete product line, please visit http://www.ansmann.de/en