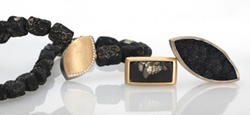 San Francisco, CA (PRWEB) August 01, 2016
This year's two-day trunk show will feature jewelry designer Marcel Roelofs to offer his designs that are popular and trending for jewelry lovers. On Aug. 2 and 3, the trunk show will be held at Union Street Goldsmith's store at 2118 Union St. in San Francisco, Calif.
Roelofs' designs are unique, timeless and versatile, making his jewelry great for any occasion, outfit or personal style. His collection truly has something for everyone and their personal taste. At this two-day show, his entire collection will be on showcase for customers to view and try on all kinds of styles and variations of his designs.
Roelofs' necklaces use vario connectors, which make them interchangeable. One pendant can be connected to different neck cords, beads or pearls, making one unique pendant wearable in a variety of ways. Shoppers can also choose to have their pearls or gemstones restrung with the vario connectors to be compatible with Roelofs designs.
His vario designs embrace the idea to remove the clasp from its purely functional niche and place a spotlight on it as a jewelry item in its own right. The extensive range of interchangeable clasps that Roelofs offers enables the creation of countless variations, combination and individual designs. Ingenious, secure bayonet fastener systems enable the wearer to interchange the clasp elements with ease to suit the mood, occasion and outfit. Check out more of his collection at http://marcel-roelofs.com.
Roelofs will be present at Union Street Goldsmith's two-day sale, and as a personable and outgoing designer, shoppers always enjoy conversing with him regarding the latest jewelry trends and his own personal designs. For those who have shopped Roelofs collection before, any jewelry previously purchased remains compatible with his latest vario designs.
About Union Street Goldsmith:
Union Street Goldsmith has been a San Francisco landmark for 40 years, offering excellent quality and creative jewelry. This special shop with its friendly staff is welcoming and unpretentious. The Union St. staff consists of six GIA gemologists who are able to help shoppers in a variety of ways when it comes to gems and jewelry. Union Street Goldsmith is known for amazing jewelry designs, fine colored gemstones, and unique engagement and wedding rings. An excellent sense of style and fashion gives Union Street Goldsmith the ability to offer valuable guidance to clients in their jewelry selection, helping each one to create an overall special look within their collection.