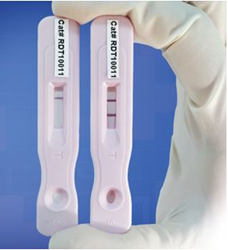 San Antonio, Texas (PRWEB) July 27, 2016
Alpha Diagnostic International, Inc. (ADI) is excited to announce the launch of TruStrip Rapid Progesterone Test Kit for determining the ovulation period in dogs and cows. This test kit greatly simplifies the process of screening dogs and cows for their most ideal breeding time. The results of the test are obtained within a matter of minutes—similar to performing a home-based pregnancy test. This new product builds upon the previous ELISA-based test kit for ovulation testing supplied by ADI. For a video demonstration of the TruStrip Rapid Progesterone Test, please visit: https://trustrips.com/TruStripRDT/RDT-Videos
Progesterone is a hormone produced and released into the blood by the corpus luteum in the ovary and plays an important role in maintaining pregnancy. The corpus luteum is formed after the follicle has ovulated and is maintained during gestation if a dog or cow is pregnant. Normal levels of progesterone hormone are very low prior to ovulation – typically much less than 5 ng/ml. Just prior to ovulation, progesterone levels spike to approximately 5 ng/ml, which is the ideal time for conception to occur.
Traditionally, animal owners have relied upon methods such as visual cues, cytological scans of vaginal swabs, ultrasound scans, and in some cases, endoscopic examinations. While these methods are reliable to varying degrees, the time it takes for a trained veterinarian to perform an evaluation can often result in missed fertile periods. Fertile periods in dogs are very short and timing is of the essence for successful conception. In addition, all existing technologies, including the ones that measure progesterone levels using ELISA-based methods, are expensive and require specialized training, facilities, and equipment to perform the tests. "The TruStrip Rapid Progesterone Test Kit will allow dog and cattle owners to determine the ideal time to breed the animal in a much timelier, reliable, and economical fashion compared to the traditional testing methods that they have been relying upon," says Dr. Masarrat Ali, Scientific Director and President of ADI.
Inaccurate ovulation detection is one of the mostly costly problems for dairy producers. A dairy producer can lose up to $3 per cow each day that a cow is open beyond the 90 days of post-calving. An estimated 5% to 25% of cows are not in heat when inseminated. By using the progesterone test, the accuracy and efficiency of ovulation detection can be increased. "The TruStrip Rapid Progesterone Test Kit will have a big impact on the overall productivity and profitability of the dairy farming business due to the significant reduction in the number of open cows," added Dr. Ali.
The TruStrip Rapid Progesterone Test Kit is available as a 10-test, 25-test, or 100-test kit and contains all reagents, test strips, and positive and negative control samples. The kit is designed and optimized for screening serum samples from dogs and cows. This kit is recommended for use by veterinarians and other individuals who are qualified to draw blood from dogs and cows. Further details are available at http://www.trustrips.com
About Alpha Diagnostic International, Inc.: ADI is a privately held, U.S. biotechnology company headquartered in San Antonio, Texas. ADI develops, manufactures, and supplies novel diagnostic and quality control reagents and test kits for use in basic biological and disease research in humans and animals. An important mission of ADI is to develop and supply diagnostic and validating solutions for promoting global health through improved vaccine therapeutics and mitigating the spread of human and animal diseases. For additional details, please visit: http://www.4adi.com