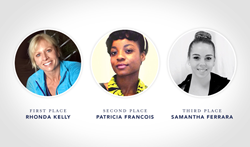 Brentwood, TN (PRWEB) July 28, 2016
American Addiction Centers (AAC) today announced the winners of its 2016 Behavioral Health Academic Scholarship Program. The first place winner, Rhonda Kelly, will receive $5,000 in financial assistance. The second place winner, Patricia Francois, and the third place winner, Samantha Ferrara, will each receive $2,500.
"We consider it a privilege to support these students as they pursue behavioral health careers that will continue to help us care for the millions of Americans struggling with substance abuse and mental health issues," said Michael Cartwright, AAC Chairman and Chief Executive Officer. "This scholarship program is another example of our ongoing commitment to ensure people have access to expert care when they need it most."
Ms. Kelly is pursuing a master's degree at the University of Colorado Denver in Clinical Mental Health Counseling.
Ms. Francois will start graduate school this fall at Columbia University. She will be pursuing a master's degree in Social Work.
Ms. Ferrara is pursuing her undergraduate degree in Social Work at Florida State University.
American Addiction Centers launched its scholarship program in 2015 in response to the growing need for trained mental health and substance abuse experts and to provide financial assistance to undergraduate and graduate students pursuing careers in the field.
About American Addiction Centers
American Addiction Centers is a leading provider of inpatient substance abuse treatment services. We treat clients who are struggling with drug addiction, alcohol addiction, and co-occurring mental/behavioral health issues. We operate substance abuse treatment facilities located throughout the United States. These facilities are focused on delivering effective clinical care and treatment solutions. For more information, please find us at AmericanAddictionCenters.org or follow us on Twitter @AAC_Tweet.
Media Contact:
Joy Sutton, Public Relations Manager
615-587-7728
MediaRequest(at)contactAAC(dot)com