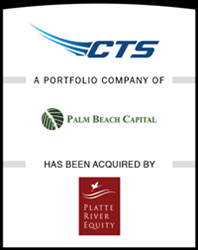 Charlotte, NC (PRWEB) July 26, 2016
BlackArch Partners ("BlackArch") is pleased to announce the sale of CTS Engines ("CTS" or the "Company"), jointly owned by Palm Beach Capital and Neff Capital Management LLC, to Platte River Equity.
CTS is headquartered in Fort Lauderdale, Florida with testing operations in Jupiter, Florida. The Company provides a full spectrum of maintenance, repair, and overhaul (MRO) services for established engine platforms, and performs developmental testing on next generation engines. The Company serves leading cargo, passenger, military and OEM customers. Acquired in 2010 by its CEO Brian Neff, CTS has grown to be a world leader in mature jet engine maintenance and operates the world's largest independent jet engine test facility.
Brian Neff, CEO and owner of CTS, commented: "BlackArch did a phenomenal job managing the process from start to finish. This was a transaction with a lot of moving parts, and BlackArch was able to navigate the deal to a successful conclusion with an outstanding new partner for us."
In addition, Nate Ward, Founder and Co-Managing General Partner of Palm Beach Capital, said: "The team at BlackArch did a great job finding a buyer that will be very supportive of CTS as it continues to grow and expand into the premiere mature engine MRO provider in North America. BlackArch's strong industry expertise led to a great outcome for Palm Beach Capital and we look forward to working with them again."
BlackArch was retained by Brian Neff and Palm Beach Capital to serve as the Company's exclusive financial advisor. The transaction continues BlackArch's strong momentum in the aerospace, defense & government services ("ADGS") sectors and is representative of the firm's focus on providing unique M&A advisory services to market-leading, founder-owned and sponsor-backed growth businesses.
Transaction Highlights

CTS was jointly owned by Neff Capital Management LLC and Palm Beach Capital
In 2010, Neff Capital Management LLC acquired CTS from its original owners
Palm Beach Capital invested in the Company in 2013
Brian Neff, CEO, and Vesa Paukkeri, COO, will continue to lead the business for Platte River Equity
About Palm Beach Capital
Founded in 2001, Palm Beach Capital is a private equity investment firm investing out of its third fund that partners with management teams in middle market recapitalizations and growth equity investments. With offices in both West Palm Beach and Tampa, Florida, the firm focuses on high growth investment opportunities. Since its inception, Palm Beach Capital has made investments in 42 platform companies. For more information, please visit the firm's website at http://www.pbcap.com.  
About Platte River Equity
Based in Denver, Colorado, Platte River Equity is a private equity firm that invests in lower middle market operating companies with enterprise values generally between $20 million and $250 million. The firm focuses on targeted industry sectors where it has deep operating and investing experience including aerospace and transportation; energy and industrial products and services; and chemicals, metals, minerals and agriculture. Platte River Equity has raised funds with committed capital in excess of $700 million.
About BlackArch Partners
BlackArch Partners is a leading middle-market investment bank offering a full spectrum of advisory services to financial sponsors, private companies and diversified corporations. BlackArch addresses the needs of owner-operators, founders and shareholders of private companies with specialized services that include M&A advisory, strategic advisory and private capital solutions. Headquartered in Charlotte, NC, with offices in Houston, TX, BlackArch features a total of 12 industry-focused practices that cover all sectors of interest to middle-market investors; BlackArch professionals have closed more than 350 transactions in 16 countries on four continents. Please visit our website, http://www.blackarchpartners.com, for more details.
Securities offered through BlackArch Securities LLC. Member FINRA and SIPC. Testimonials may not be representative of the experience of all clients. Testimonials are not a guarantee of future performance or success.