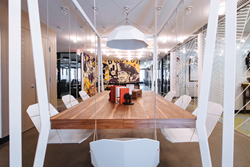 Boston will be a prime business location for us.
BOSTON, MA (PRWEB) August 02, 2016
Custom mobile app development company Zco Corporation, headquartered in Nashua, NH, is announcing an expansion to Boston, MA. Its new satellite office is in the WeWork South Station community at 745 Atlantic Avenue, Boston, MA 02111.
In order to better serve its growing client base, Zco Corporation has opened the new space about 40 miles southeast of its headquarters. The new office will give its clients and prospects south of Boston more convenient face-to-face time.
Zco Corporation chose the WeWork co-working space because it is an innovative, creative community where Zco can network with other entrepreneurial companies and learn more about the latest and greatest in technology. The WeWork space is located in Boston's historic Leather District across from South Station. It includes ample conference space, lounges, and stunning interior design.
"Boston will be a prime business location for us," says Zco Corporation's Chief Financial Officer Linda Reilly. "Being part of the Boston hub will allow us to take advantage of the flourishing economic industry Boston has to offer. By hosting networking events and launch parties for our customers we will quickly become an integral part of the Boston community. This is a wonderful expansion opportunity for Zco and a direct reflection of our continued growth and success!"
"The space has great energy and will be a perfect place to network and meet clients from Boston," says Zco's Territory Sales Account Executive, George Markwell.
The new office will be convenient for Zco employees, who will be able to take the bus from its headquarters in Nashua right to South Station where the office is located. As a mobile app technology company, Zco will be one of many technology companies growing in Boston's technology/start up hub. To learn more about Zco Corporation, visit: http://www.zco.com.
ABOUT ZCO CORPORATION
Founded in 1989, Zco Corporation is a custom software development company specializing in mobile app development. It has been top ranked by several industry guides as one of the best app development companies in Boston and the USA. More information about Zco Corporation can be found at http://www.zco.com.