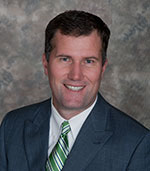 Brent has been an indispensable part of our executive team for many years. We are very pleased to recognize his contributions to our success by naming him the sixth President of Washington Federal in its ninety-nine year history."
Seattle, Washington (PRWEB) July 26, 2016
Washington Federal, Inc. (NASDAQ: WAFD) today announced that Chief Banking Officer Brent J. Beardall has been awarded the additional title of President for both the parent company and its primary operating subsidiary, Washington Federal, N.A.
Mr. Beardall joined Washington Federal from Deloitte & Touche in 2001 as Controller and was promoted to Chief Financial Officer in 2003. A Certified Public Accountant, he held that position until 2014, when he moved to the Chief Banking Officer role to broaden his executive experience. As Chief Banking Officer, Mr. Beardall is responsible for all client-facing activities of the Company. He has been a member of the Executive Management Committee for the past thirteen years. Mr. Beardall holds an undergraduate degree and a masters degree in Accounting from Brigham Young University, and in 2014, he completed the Stanford University Executive Program.
Roy M. Whitehead, who remains as Chairman and Chief Executive Officer commented, "Brent has been an indispensable part of our executive team for many years. We are very pleased to recognize his contributions to our success by naming him the sixth President of Washington Federal in its ninety-nine year history."
Washington Federal, N.A., provides consumer and commercial deposit accounts, insurance products, financing for small to middle market businesses, commercial and residential real estate, including consumer mortgages and home equity lines of credit. Established in 1917, the Company operates 243 branches in Washington, Oregon, Idaho, Utah, Nevada, Arizona, Texas and New Mexico. As of June 30, 2016, the Company reported $14.8 billion in assets, $10.6 billion in deposits and $2.0 billion in stockholders' equity.
To find out more about the Company, please visit our website. The Company uses its website to distribute financial and other material information about the Company, which is routinely posted on and accessible at http://www.washingtonfederal.com.