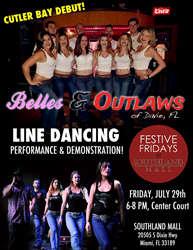 Miami, FL (PRWEB) July 26, 2016
*** MEDIA ADVISORY/ CALENDAR LISTING ***
WHAT: Southland Mall brings Davie's own Belles & Outlaws to their ongoing "Festive Fridays" event series for an exclusive line dancing demonstration and performance. Every Friday evening, shoppers are invited to enjoy live free entertainment and interactive activities alongside family and friends at the "Festive Fridays" stage, located in the mall's Center Court. This exclusive one-time only event will be Belles & Outlaws first public appearance in the Cutler Bay area and coincides with Southland Mall's 7th Annual Kid's Week.
WHO: Mall goers and "Festive Fridays" audience members will be able to watch and participate in learning how to line dance to their favorite hit songs. This event is all ages. No ticket or sign-up required to participate. Hosted by Belles & Outlaws.
WHEN: Friday, July 29th at 6:00 P.M.
WHERE: Southland Mall, Center Court, 2050 S Dixie Hwy, Miami, FL 33189
About Southland Mall
Southland Mall, located in South Miami-Dade County, Florida, the densest, most populous county in the southeastern portion of the state of Florida, has over 1 million square feet of gross leasable area. Southland Mall is conveniently located on U.S. 1 and SW 205th Street, off the Florida Turnpike, Exits 11 or 12, and is the only enclosed regional mall servicing South Miami-Dade County down to the Florida Keys. Southland houses over 100 specialty stores, including Macy's, Sears, JC Penney, TJ Maxx, Old Navy, Starbucks, a 16-Plex Regal Cinema and diverse Food Court. For more information about Southland Mall, visit mysouthlandmall.com on your mobile device, follow us on Twitter @solandmall, 'Like' us on Facebook at southlandmallmiami, or call (305) 235-8880.
About Gumberg Asset Management Corp.
Gumberg Asset Management Corp., a diversified real estate retail organization with a tradition of uncompromising integrity and unbeatable performance is the manager of Southland Mall. For further information, visit the Company's website at http://www.gumberg.com.