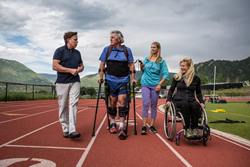 "I'm running for those who can't. Each step, each race is for someone who dreams of walking again." Malibu Kelly Hayes
Aspen, Colorado (PRWEB) July 29, 2016
Spurred by his 60th birthday, Hayes created a personal challenge; a "Running Decathlon", (Race2walk2016) to run the top ten Olympic running events in twice the time as the world record holders in the stadiums where the record was set. The event kicked off on July 7 in Rome, where Hayes ran the Mile event at the famed Stadio Olimpico, with the goal of running half as fast as the standing world record of 3:43. Assisted by pacer Gabriele Pattumelli‬, and started, timed and filmed by an official crew organized by the Stadio Olimpico public relations team, Hayes beat his time of 7:26 by :21.
"It was an unbelievable and humbling experience," shared Hayes about the run, which took place on the track where Hicham El Guerrouj set the world record, on the exact same date, 17 years before. "The opportunity to run on the historic track at the Stadio Olimpico was a great honor. While running in the footsteps of champions, mine is a personal quest of the heart - I'm running for those who can't. Each step, each race is for someone who dreams of walking again. I'm compelled to make that dream a reality through my Race2walk2016 journey." The following week, on July 14, Hayes ran his second of the 10 races, the 1500m, at Stadio Olimpico, with the same team in place. He again beat his required time, this time by :27.
NBC Sports and Olympic Games host Bob Costas visited with Hayes and Amanda Boxtel, the founder of the Bridging Bionics Foundation in Aspen, Colorado, on June 27, where he filmed a video introduction for the events and campaign.
The next run, the 5000m, will take place on July 29, at Fanny Blankers-Koen Stadion in Hengelo, Netherlands. The goal is 25:14 or "half as fast" as the record set in that stadium by Kenenisa Bekele in 2004. Other runs this summer include 100m and 200m runs on August 5th in Berlin. These coincide with the opening of the 2016 Olympics in Rio and the 80th anniversary of Jesse Owens 3rd Gold Medal at the 1936 Berlin Olympic Games. And an attempt will be made to run half as fast as the 800 meter mark at the Roger Bannister Stadium in Oxford, England.
The 'Running Decathlon' consists of ten runs: 100m / 200m / 400m / 800m / 1500m / Mile / 5000m / 10000m / Half Marathon / Marathon.
About Race2walk2016
Race2walk2016 is a platform to raise $90,000 to purchase a bionic exoskeleton suit for the Bridging Bionics Foundation's Aspen/Snowmass facility to expand as a world-class training center for individuals who are paralyzed to walk again. Bionic exoskeletons power individual with lower extremity paralysis or weakness to stand upright, fully weight bear and take robotic assisted steps over ground. 100% tax-deductible contributions to the Race2walk2016 campaign will go toward the purchase of a bionic exoskeleton.Race2walk
About Bridging Bionics Foundation
Founded in 2014 by Amanda Boxtel, an Aspen, Colorado local paralyzed from a ski accident in 1992, Bridging Bionics Foundation is a Section 501(c)(3) Colorado nonprofit corporation: EIN#46-2182977. The Foundation's primary focus is raising funds to purchase bionic exoskeletons that allow individuals with mobility impairments due to neurological challenges, to stand up and walk. Using a human/machine interface, motion sensors trigger the exoskeleton- and the user - to take a step. Access to this cutting edge technology, which is typically cost prohibitive, enables individuals with mobility impairments to enhance neuro-recovery and qualify of life. Bridging Bionics Foundation