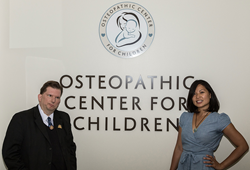 It is time to take the work and vision of OCC to the next level, and I agree with Dr. Chen that we can change the world one child at a time. The vision is bright at the OCC and our path is clear.
San Diego, CA (PRWEB) July 27, 2016
The Osteopathic Center for Children (OCC), a California public-benefit corporation, today announced the addition of a new physician, Ching Chen, DO. Founded, in 1982 by heralded osteopath Viola M. Frymann, DO, the Osteopathic Center for Children is world-renowned for treating children with complex neurological and other conditions and is as an internationally recognized teaching center for physicians.
Said R. Mitchell Hiserote, DO, president of the OCC board, "Our goal of helping children from around the world is expanding; Dr. Ching Chen is a wonderful addition and part of our ongoing expansion."
Escaping Communist China as a child during the last years of the Cultural Revolution, Chen went to medical school after her aging grandmother was denied healthcare and specialized in physical medicine and rehabilitation after she became outraged by the poor treatment of returning American combat soldiers.
Chen likes to say she was "made in China" but born in America. As a youth having firsthand knowledge of China's Cultural Revolution, which included persecution of free thinkers and dissidents, Chen felt the pain of the students at Tiananmen Square. As an adult, she developed a passion about the fundamental aspects of democracy she missed as a child. These include the power of freedom of thought and the pursuit of happiness.
Dr. Chen shared, "So many children who later become adults are imprisoned in stuck bodies. Others have stuck minds or stuck emotions. I am about helping the children and their families to become free of all that. I am about asking what else is possible and giving patients freedom."
Chen, who is an internationally known expert in osteopathic manipulation and board certified in physical medicine and rehabilitation, has extensive experience working with complex medical conditions such as cerebral palsy, traumatic brain injury, autism, and pediatric Lyme disease. She uses a unique skillset to serve patients, which includes traditional Chinese medicine, herbal medicine, rehabilitative nutrition, and osteopathic medicine. Osteopathic medicine focuses on addressing the structural imbalances in the muscles and connective tissue, including the brain and spinal cord. Using osteopathic medicine in conjunction with proper nutrition, traditional Chinese medicine, and an energetic approach called Access Bars, Dr. Chen has been able to achieve outstanding results in both children and adults.
Pediatrician Shawn K. Centers, DO, medical director and senior medical consultant for OCC said, "We are very excited to have Dr. Chen with us. Having a physical medicine and rehabilitation physician who also is an expert in traditional Chinese medicine greatly expands our ability to help patients of all ages. In my 20 years of practice, I have not come across another physician like Dr. Chen. Her methods are truly unique. When you have a child who cannot walk and then starts walking or a child with no language who starts blurting out words, then you know something tremendous is happening. These are the types of miracles we see in patents treated by Dr. Chen. It is time to take the work and vision of OCC to the next level, and I agree with Dr. Chen that we can change the world one child at a time. The vision is bright at the OCC and our path is clear."