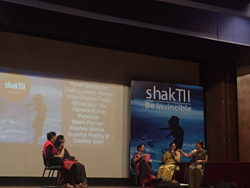 As part of the project Sujata Tibrewala will connect to women across the world by releasing inspiring You Tube videos
Cupertino, California (PRWEB) July 30, 2016
Whether women are in a workplace or in a household, they should be able to command power and respect. Eco feminist artist Sujata Tibrewala echoes this sentiment in her just released video to extend her support to a dynamic new movement called ShakTII -Be Invincible.
Conceptualized by the alumni association of premier high education Indian institutes – IIT (Indian Institute of Technology) Bangalore Chapter and IISc (Indian Institute of Science) family and friends forum in India, the project celebrates women achievers who have made an impact. The program also serves as an integrated community to provide mentorship to women for building their careers.
Tibrewala, through her exhibits, workshops and projects has been exhorting women across cultures and age groups to believe in their strengths and to rise above the challenges posed by the society. So when last month, she was approached by Madhur Khanna (shakTII president, an IITK alumna) to be a part of this engaging movement being initiated in India to provide encouragement to women looking at establishing newer professional roles, she was more than enthusiastic.
Tibrewala, an IIT alumni herself, chose to be the part of the project by releasing a video where she states facts and statistics to show that how women continue to lag behind in even some of the most developed countries such as the USA. The artist says ambitious women who may be new entrepreneurs, students, professionals or the ones in creative arts, need to be provided guidance and pep talk to keep up their spirit. She believes that a platform like ShakTII can give them both emotional and practical advice on how to take better charge of their lives. The team organizes seminars, workshops where they invite meritorious women to conduct knowledge sessions and inspirational talks.
Showing solidarity to the program, Tibrewala, aims to connect to women not just in India and USA, where she's based, but also across the world by releasing You Tube videos that will lead young women by giving examples.
The first event was held on July 9 where speakers from administrative services, corporate leadership, entrepreneurs, social sector and academics spoke on challenges and successes in their respective areas. Along with women of excellence, organizations supporting women executives were also celebrated. Mentorship through discussions and workshops was provided in areas such as preparing and practicing Entrepreneurship, Business communication and seeking an education in IIT.
The first video of the artist released last month was met with a huge support. The shakTII marketing team found great response from the audience. It even got in few additional registrations for the event.
In her video, the artist highlights how women in the United States not only put on average extra hours per week as compared to their male counterparts but are also paid lesser than men. She cites her personal example and says achieving equality at home for her was a battle fraught with fights and challenges but ultimately it was her womanly instinct that won over.
The artist also offers inspiration by a slideshow of some of her paintings. Her work Goddess reminds that the earliest Gods known to mankind were women. Another work on achievers such as Cecilia Payne, the founder of modern astronomy and Marie Curie with her discoveries on radioactivity have led and paved the way for millions of women. All they need is the right guidance.