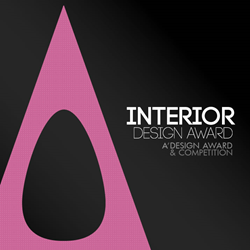 Como, Italy (PRWEB) July 27, 2016
A' Design Award and Competition is now accepting submissions of most creative and innovative interior design solutions for the International Interior Design Awards 2016.
The A' Interior Design Awards is an annual event that accept submission from all over the world. Interior designs and exhibition space projects can be represented by a finished project or conceptual work.
The A' International Interior Design competition is presented within different sub-categories such as Exhibition Design, Hospitality Design, Public Spaces, Residential Design, Retail Design and Workplace Settings, Zones and Rooms. Projects proposed and completed within last 10 years are eligible to be nominated.
Once submissions are accepted international panel of recognised jury members will assess the projects to select the winners that will encourage professionals within the discipline toward creation of unique and innovative designs. Entries to the A' Interior Design Awards will be peer reviewed and voted on criteria such as innovation, ergonomics, flow design, public benefits, functionality, sustainability, decorative solutions, creative approach and good use of space.
Winners will be granted with the A' International Design Awards unique metal trophy, excellence in design certificate, extensive PR campaign and many other benefits including exclusive invitation to Award Ceremony and Exhibition Opening held in Como, Italy.
Deadline for submissions in on September 30, 2016 with the late deadline on February 28, 2017.
Annual list of winners will be announced on April 15, 2017 through the international media partners.
About the A' International Interior Design Award
A' International Interior Design Awards, annually organised by A' Design Award and Competition, is committed to idea of supporting creativity and competence in interior design by highlighting best spatial design projects. The A' Interior Design Awards were especially established to create an incentive for interior designers and companies worldwide to come up with superior projects that are not only aesthetically attractive but also highly functional, innovative and sustainable. The A' Interior Design Awards aims to create awareness for good interior design practices & principles and to recognise outstanding interior projects from around the world by promoting them throughout the wide network of media partners. More details on http://www.designaward.com/