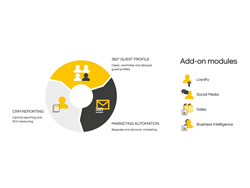 Regarding our further expansion, the use of our customer data is crucial. With Serenata NetHotel we rely on a leading provider who is a privately owned medium-sized company just like ours.
Redwood City, CA (PRWEB) July 27, 2016
Serenata Hospitality CRM is pleased to announce that The Althoff Hotel Group, including the 5-star Althoff Hotels Collection and the young 4-star brand of Ameron Hotels, is now using Serenata Nethotel CRM.
The Althoff Hotel Group is well-known for its quality leadership in the hospitality industry. For Althoff, responding individually to each guest is a priority in order to achieve sustainable customer loyalty. Serenata NetHotel provides the opportunity to gather all relevant guest interests over the entire "customer journey" and to use this information for an even more individualized guest experience. Valuable information about guest preferences, such as restaurant meals and spa stays, as well as economic information such as sales, frequency and length of stay can be analyzed. Marketing-related data about guest preferences can then be summarized in a central customer database and reported to the hotel group for ongoing guest communication. The availability of this guest data allows for more targeted marketing communication, monitoring, and evaluation of all activities both online and offline.
Using Serenata NetHotel CRM, Althoff Hotel Group sets the following primary objectives:

Increase of direct bookings in the areas of Individual Leisure & Corporate
Reduction of distribution costs
Efficient data evaluation
Increased cross-selling rate within the group of companies
Reliable control of sales targets
Structured reporting and trend analysis
"Regarding our further expansion, the use of our customer data is crucial. With Serenata NetHotel we rely on a leading provider who is a privately owned medium-sized company just like ours," shared Thomas Althoff. The hotel group is now able to ensure effective marketing in all individual and business customer segments across all brands. "This allows us to increase our market share sustainably, to lower distribution costs and to make full use of the cross-selling potential of our brands," explained Stefan Matthiessen, Director eCommerce & Distribution of Althoff Hotel Group.
Serenata NetHotel will be used within the entire Althoff group which includes Althoff and Ameron hotels and also the new Urban Loft brand slated to open in 2018. The Althoff brand Ameron for China plans a joint venture with the Plateno Group, an Asian and global hospitality leader.
About Serenata Hospitality CRM:
Combining 20 years of hospitality technology experience with the energy of a start-up, Serenata turns big data into smart useable data. Serenata is a leading providers of e-marketing and CRM solutions for the hospitality industry. By integrating guest information from the property management system (PMS), central reservation system (CRS), websites and more, Serenata NetHotel develops a 360° view of the guest. At each step before, during and after their stay the product ensures guests receive the most targeted, dynamic and relevant communication.
Founded in 1996, Serenata has grown a prestigious international client list, including: Ameron Hotels | Belmond | Constance Hotels and Resorts| Dorchester Collection | Dorint Hotels and Resorts | Fleming's Hotels and Restaurants | Four Seasons Hotels and Resorts | InterCityHotel | Lindner Hotels and Resorts | Lux Resorts | Kempinski | One&Only Resorts | Onyx Hospitality Group | Red Lion Hotels| Relexa Hotels | Sarova Hotels | Shangri-La Hotels and Resorts | Sorell Hotels | Taj Group | Trump Hotels | Warwick International Hotels.
For further details please visit http://www.serenata.com .
About Althoff Hotels:
With six luxury hotels, Althoff Hotel Collection is currently a collection of individual 5-star hotels offering star gourmet kitchens and beauty and spa treatments at the highest level. In all hotels the entrepreneur Thomas H. Althoff relies on a high degree of quality, individuality and customer satisfaction. Every employee is part of the Althoff Hotel Culture and lives the philosophy that puts the guest in the center.
Lightness meets tradition: Those looking for freshness in combination with quality, find at AMERON a professional who puts the guest in the center. Design-oriented, young and sophisticated – the 4-star hotel has no lifestyle rarity factor, but is noticeable in every room and experience. The AMERON philosophy builds on three elements: life style, hospitality and consumption.
For further details please visit http://www.althoffhotels.com