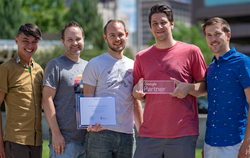 "This distinction is yet another demonstration of our commitment to cutting-edge marketing strategies," said Seth Odell, Helix Education's Vice President of Creative and Marketing Strategy
Salt Lake City, UT (PRWEB) July 27, 2016
As a newly-deemed Google Premier Partner, Helix Education now holds a distinct advantage in higher education enrollment marketing. With roughly 30 years of experience driving enrollment growth, Helix joins an exclusive group of partner companies granted unprecedented recognition of performance, certification and quality of work. While Helix has long enjoyed a Certified Partner relationship with Google, this new elite designation further substantiates the company's commitment to data-driven enrollment growth.
Google introduced this new partner classification to reinforce the value of partnership and highlight noteworthy companies. Speaking to Helix's compelling creative and powerful attribution models, Google selected Premier Partners for their higher revenue thresholds and performance standards for digital marketing. Using a brand-direct approach, Helix strategically blends art and science to create digital campaigns that are both engaging and results-oriented.
This brand-direct approach is highly necessary in higher education. According to a 2016 report by the Online Learning Consortium, 85% of students enrolled in American higher education institutions are considered post-traditional. The prevalence of the post-traditional learner is requiring colleges and universities to adapt innovative enrollment marketing practices driven by a mix of channels. By continually optimizing digital marketing efforts, Helix maximizes campaign performance.
"We're both honored to join the top tier of Google Partners and excited by the advantage we can provide our higher ed clients," said Seth Odell, Helix Education's Vice President of Creative and Marketing Strategy. "Gaining unprecedented access to Google products and support on top of what we enjoyed as a Google Partner is a unique opportunity for us and our clients as they look to connect with and support more post-traditional learners. This distinction is yet another demonstration of our commitment to cutting-edge marketing strategies."
About Helix Education
Helix Education provides colleges and universities a comprehensive suite of technology and services to power data-driven enrollment growth 8x faster than the industry average. The company's three solutions — Outsourced Program Management, Enrollment Marketing and Retention Services — have successfully helped institutions find, enroll, retain, teach and graduate post-traditional learners for more than 30 years. Its enrollment growth solutions are powered by a proprietary technology ecosystem that aggregates data across the student lifecycle to better understand an institution's best-fit students' journey, and implements actionable intelligence to improve outcomes for students and institutions alike. For more information, visit http://www.helixeducation.com.
# # #