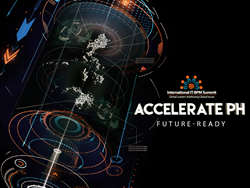 The digital age presents a significant opportunity for the Philippines to embrace this shift and reap the upside benefits of these trends.
Manila, Philippines (PRWEB) July 29, 2016
The acceleration of both technology and innovation has disrupted the way societies and communities function. In almost every aspect of everyday life—from communication to how information is consumed and shared—this tectonic shift has redefined the way people live, work, learn, and experience. It has permanently transformed the society and economy, arguably, for the better.
This year's International IT-BPM Summit (IIS), organized by the IT-Business Process Association of the Philippines (IBPAP), will delve into the disruptive power of technology and how it can be harnessed to accelerate the country's development and make it future-ready.
"The Philippines is one of the global leaders in the field of IT-BPM, this is an undisputable fact," Catherine Salceda-Ileto, IBPAP Trustee and Sutherland Global Services Senior Director and Asia Pacific Leader for Marketing & Public Relations said. "But we are not complacent with our success, we want to continuously work towards a future where we will continue to be relevant whatever the technological landscape looks like. We are meeting every challenge head on to chart a brighter future for our industry through the 8th IIS."
Since the inception of the 2012-2016 Philippine IT-BPM Roadmap, the local IT-BPM sector has seen exponential growth both in terms of employment and revenue. This year, it is expected that direct employment within the IT-BPM industry will reach 1.3 million while revenue will grow to US$25 billion. As it reaches this milestone, the industry and its stalwarts are setting their sights on the next six years, and what's clear today is that technology will redefine everything we know about IT-BPM.
Technology now influences every aspect of life, from the way people live, work, and learn, and now even how the world is experienced.This shift has been ushered in by the evolution of the devices that are used everyday, with the introduction of smartphones with nearly limitless processing power and internet connectivity. This gave way to an era of hyperconnectivity, where people from across the world, though living in different cities with different timezones, can see each other face to face. And this form of connectivity doesn't stop with humans, because now even everyday appliances and accessories are tethered to the web. Even education is evolving in the face of unprecedented technological developments. It has become democratized by the internet--giving the marginalized access to learning on a scale that had been reserved for more developed countries.
The same goes for how businesses are conducted as the very concept of work has been altered by the advancement of tech infrastructure. It enables people from around the globe to work simultaneously regardless of distance and time difference, resulting in faster, easier, and more accurate information dissemination. But it does not stop there as technology has even transcended the physical realm, allowing more people to experience technology in a more engaging and captivating way. Augmented and virtual reality allow people to inhabit and explore faraway and imagined worlds.
"The digital age is ushering in trends in analytics, intelligent automation, and cloud-based as-a-service delivery models, among others," said Benedict Hernandez, IBPAP Executive Committee Chairman, Contact Center Association of the Philippines (CCAP) President, and Accenture Philippines Service Delivery Operations Lead. "This presents a significant opportunity for the Philippines to embrace this shift and reap the upside benefits of these trends."
People now live in a connected world at the cusp of accelerated evolution, where even the initial stages of technological advancement changes the learning process, how industries and communities are shaped, and ultimately transforming both personal and shared experiences.
Witness the continued disruption of the way people live, work, learn, and experience, and move further in the digital world. Be part of the IT-BPM industry's acceleration to become a future-ready sector at the 8th International IT-BPM Summit on October 28 at the Marriott Grand Ballroom, Pasay City.
For more information about IIS 2016, visit http://www.internationalitbpmsummit.com.