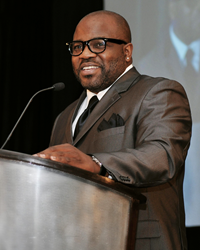 George Bandy is the consummate sustainability leader on every level you can name.
Calhoun, GA (PRWEB) July 29, 2016
Mohawk Group, a leading commercial flooring company known for cutting-edge and innovative flooring solutions, announced today that George Bandy Jr. has joined the organization as its Vice President of Sustainability. Bandy has spent over 22 years working in the sustainability field, and has amassed a rich experience within the discipline's concepts and practices as they relate to positioning environmental, economic and socially responsible solutions for business.
"George is a seasoned sustainability leader who will bring a wealth of knowledge and valuable industry relationships to Mohawk," said Michel Vermette, president of Mohawk Group. "Over the past few years, our company has made significant strides in our sustainability journey, embracing new ideas and leading the building materials industry in transparent manufacturing. We are confident that George will bring a fresh perspective to our approach and catapult us to new levels of leadership in the industry. We are incredibly proud to have him join the Mohawk team."
He comes to Mohawk Group following 16 years with Interface, where he most recently served as the flooring company's VP of Sustainability, and was also a member of Interface's Americas Sustainability Council. In his role at Interface, Bandy traveled extensively as a highly sought after presenter on key topics including the business of sustainability, innovation in relation to nature, social sustainability and changing mindsets to a greener focus.
"Mohawk's sustainability ethic already sets a high bar for businesses around the world at a time when the stakes for our efforts have never been higher," said Bandy. "As a manufacturing powerhouse, we can continue to make outsized contributions to solutions that ensure our children's future. At the same time, we nurture the communities in which we live and work through our environmental stewardship, inspire actions that advance our society and provide the innovation that drives growth for our shareholders. I am excited to join the Mohawk team and contribute to the company's success."
Before working at Interface, Bandy was employed as the University Sustainability Officer for the University of Texas Health Science Center at Houston. He is the immediate past board chairman of the U.S. Green Building Council (USGBC), and has also served on the board for Second Nature, a non-profit that champions for higher education institutions to make the principles of sustainability fundamental to every aspect of learning.
When asked what truly sets Bandy apart, the sustainability industry's most notable leaders point to his experience, charisma and depth of understanding:
"George Bandy is the consummate sustainability leader on every level you can name," said Rick Fedrizzi, CEO and founding chair of USGBC. "As chair of the USGBC board of directors during a time of explosive growth and change, his amazing ability to lead others to consensus and action was so critical to advancing our work to create a healthier, more sustainable built environment. He deeply understands what needs to be done, and is brilliant in sharing with others why it matters in ways that are both inspirational and instructive, and we're all better for it."
"George Bandy is highly regarded for his thoughtful approach to sustainability," said Jason McLennan, founder and chair of the International Living Future Institute (ILFI). "He joins a strong team in place at Mohawk. The company has been a tremendous partner to the ILFI and an early adopter of our programs and ideals. George's passion and leadership abilities will undoubtedly breathe new life into an already successful sustainability platform at Mohawk."
Bandy received his bachelor's degree in English from Morehouse College, where he minored in Environmental Business Management. While in Houston, he also took part in continuing education training in sustainability. Additionally, Bandy holds LEED Accredited Professional certification from the USGBC. He is a native of Opelika, Ala.
About Mohawk Group
Mohawk Group, the world's leading producer and distributor of quality commercial flooring, delivers industry-leading style, cutting-edge innovation, unmatched service and superior sustainability. As the commercial division of Mohawk Industries, Mohawk Group has a heritage of craftsmanship that spans more than 130 years. The company's enduring family of brands—Karastan, Lees, Bigelow and Durkan—are widely regarded as the most trusted names in the commercial flooring business. Together, these brands function beautifully, delivering the perfect flooring solution for all markets and price points. Rounding out its esteemed product offering, the Mohawk Group also offers a full spectrum of hard surface flooring products and installation accessories that exceed the most rigorous performance standards. For additional information about its proven design solutions, and to learn more about what is next from Mohawk, visit http://www.mohawkgroup.com or call (800) 554-6637.