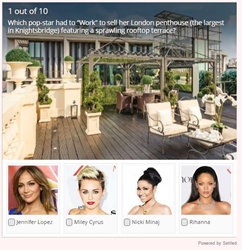 London, UK (PRWEB UK) 2 August 2016
Everyone loves the opportunity to peek into celebrity homes and see how they live behind closed doors. From their luxurious interior design to their envious square footage, the intrigue is never-ending.
However is it possible to guess a celebrity by looking at their property? Does their choice of decor make their homes as recognisable as they are?
To answer this question and satisfy the ever-growing interest in celebrity homes, the property experts at Settled have devised a fun quiz featuring some top stars and their homes. Celeb fans can have a go and see how well they know their celebs and their homes.
Simply click this link to view the quiz and get the code to embed it on a website. Instructions for how to do this are in the pdf attachment.
Once the quiz is complete the results can also be shared on social media sites including Facebook.
-Ends-
About Settled
Settled is a property sales platform that was created in order to offer a better way of buying and selling homes, because we believe homeowners partnered with expert support is the key to a successful sale. Settled eliminates the need to use expensive estate agents; instead buyers and sellers are connected through the platform and given access to a range of digital tools and round-the-clock support – allowing Settled to lower costs to an industry-leading £399 (VAT inclusive).
The co-founders are brother and sister team Gemma and Paul Young, who combined their previous experience in the technology and property industries to reassess the traditional approach to buying and selling homes.
For further information about the quiz and Settled please contact:
Jessica Pearn
PR Manager, Settled
(e) press(at)settled(dot)co.uk
(m) 07788 100 131