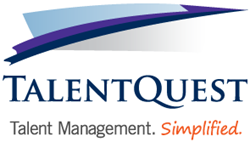 This year's TQ TalentQuest conference promises to be an event that will change the way our attendees think about talent management.
ATLANTA, GA (PRWEB) July 28, 2016
TalentQuest, a leading provider of comprehensive talent management software and consulting solutions, announced guest speakers and highlights for its upcoming annual talent management conference, from August 22-23, 2016. The conference draws human resources and talent management professionals from across North America. Joe Gerstandt, well-known speaker, author, blogger and frequent keynote speaker at SHRM (Society for Human Resource Management) events, will keynote TQ TalentTalks with his informative and inspirational insights on diversity and inclusion in the workplace. In addition, three guest speakers representing Fortune 100 and leading companies will conduct sessions covering gender and cultural fluency, employee engagement strategies and employment branding.
Visit www2.talentquest.com/TalentTalksHome for full conference and registration information.
"While last year's inaugural TalentQuest conference is a hard act to follow, we believe we that have a line-up of speakers and topics that will earn even greater kudos from 2016 attendees," said Frank Merritt, CEO of TalentQuest. "Our goal for the TQ TalentTalks conference is centered squarely on providing attendees with talent management intelligence they can receive nowhere else. Our company culture inspires us to continually share knowledge, insight and best practices that can play a significant part in helping our customers succeed."
TQ TalentTalks not only provides a forum for TalentQuest talent management experts to share their knowledge, but also includes numerous networking opportunities in which attendees can share narratives about their own successes and challenges. Attendees also have ample access to TQ staff from a variety of capacities, as well as conference sponsor, OpenSesame, the trusted provider of on-demand elearning courses for the enterprise.
"This year's conference promises to be an event that will change the way our attendees think about talent management," continued Merritt. "We anticipate a formidable exchange of ideas that will collectively leave TQ staff and all attendees ready to change the world of talent management."
The TQ TalentTalks agenda available at www2.talentquest.com/TalentTalksAgenda covers one and one-half days of intensely focused general and breakout sessions, roundtable discussions and networking opportunities. The conference will be held August 22 and 23, 2016 at the Georgia Tech Conference Center in TalentQuest's headquarters city of Atlanta.
ABOUT TALENTQUEST
TalentQuest provides comprehensive talent management software and consulting solutions that empower companies to effectively select, manage, develop and retain the best talent. Headquartered in Atlanta, GA, TalentQuest serves organizations of all sizes, industries and geographic locations. The combination of TalentQuest's expert consulting and dedicated client support model coupled with flexible, configurable and easy-to-use software results in an industry-leading 99% client retention rate. Visit http://www.talentquest.com for more information.