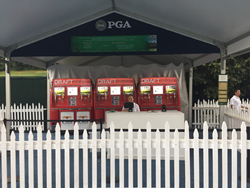 Stay Cool, Skip the Line, Pour Your Own Beer!
Springfield, NJ (PRWEB) July 28, 2016
In the midst of a brutal heat wave the PGA Championship tees off this week at the renowned Baltusrol Golf Club. Customers looking for a new way to cool off in between strokes, Levy Golf has partnered up with Georgia based tech company DraftServ Technologies to provide self-serve beer systems to PGA Championship fans. DraftServ is the global leader in self-serve systems having invented the first beer tables in North America and the first beer walls in the world. They sell to restaurants and bars, as well as major concessionaires and cruise lines. The three stands are located on the Food and Beverage deck, and will feature six beer options, Coors Banquet, Coors Light, Brooklyn Defender IPA, Amstel Light, Leinenkugel Biergarten, and Leinenkugel Summer Shandy.
In order to use the machines you must buy an RFID card for $20 or $40 from the stand located directly in front of the systems. Once the customer has the card, they will use it to open the taps by touching it to the target – appropriately labelled "Tap Here". This initiates a 19 second timer during which beer can be poured. The beer is counted and charged by the ounce so, customers only pay for what they pour. As long as there is credit remaining on the card, customers may return to the taps, skip the line and pour as much or as little as they want. The cards are also good to be used throughout the tournament so if customers can buy a card on Thursday and as long as they have a few extra ounces left they are good to go for the rest of the weekend!
Contact DraftServ, by email at sales(at)draftserv.com or call 470-309-7998.