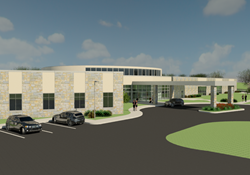 Richardson, TX (PRWEB) July 27, 2016
Adolfson & Peterson Construction (AP) was recently selected to build a new surgical hospital in Denton, named Ranchview Surgical Hospital.
Developed by Castle Development Group and designed by Mike Hale Architects, this project includes a 44,782 sf single story, ground up Ambulatory Surgical Center, complete with emergency department, MRI, CT Scan and X-Ray.
"AP is excited to build on our robust portfolio of healthcare projects in DFW, including more than $300M worth of healthcare facilities in recent years," said Corbett Nichter, Senior Vice President with AP. "Our team is committed to delivering exceptional quality and service, while being a good neighbor to the Denton/Argyle community."
Construction will commence in August 2016 with final completion scheduled for August 2017.
About Adolfson & Peterson Construction
Adolfson & Peterson Construction is a U.S.-based, privately held firm that is consistently ranked among the top 50 construction managers and general contractors in the nation. Founded in 1946, the company has built longstanding commitments to the regions in which it operates and is known nationally for its innovative and collaborative approaches within the building industry. Adolfson & Peterson Construction serves the education, multifamily, healthcare, energy, commercial, municipal and senior living market segments from its offices in Charlotte, Dallas, Denver, Minneapolis, Phoenix, and Tacoma. For more information, visit http://www.a-p.com and follow us on Facebook, LinkedIn and Twitter.
Mike Hale Architects
Mike Hale Architects is local design firm with a primary focus in healthcare throughout Texas and Oklahoma. The firm was founded in 2008 by Mike Hale, who boasts an extensive background in Healthcare throughout the DFW area. Projects range from large hospital additions/remodels to ground-up MOB and ASC facilities throughout Texas and Oklahoma.
About Castle Development
Castle Development Group is a full service commercial development and real estate firm. Our core services include pure development, development management, construction management, property management and brokerage. From turn-key ground-up medical developments to assisting clients locate their next office, we can provide a customized solution to fit your specific needs. We specialize in providing value to our clients through our experience and knowledge in the commercial real estate industry.