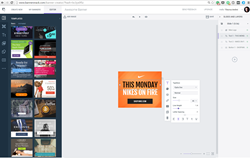 "Bannersnack is an all-in-one toolkit for your online advertising needs. The user interface is user-friendly, making it easy even for non-designers to create professional-level banner designs." Jacob Gube - @Six Revisions
San Francisco, California (PRWEB) August 01, 2016
The new tool is based on data collected through qualitative research, meant to identify the basic needs, wants, opinions and motivations of banner creators. The research revealed that 63% of the users appreciate the ease of use in the first place and more than half of these users, almost 34%, find it difficult to create an animated and interactive banner.
Taking into account that besides the qualitative data, the biggest challenge for today's marketers and business owners is time management, Bannersnack transformed each step into a more intuitive process and optimized the workflow in the form of an outstanding editor with incorporated high-quality resources: templates, fonts, stock photos, presets, shapes, animations and textures.
This enables the marketer to create visuals faster and save time and money.
"We've invested a lot of time in analyzing the needs of our customers. Our goal is to develop the ultimate solution for their problems when it comes to the creation of visuals and we've completely reimagined the process. The new editor represents an outstanding way to create static and animated banners easily," says Gabriel Bitis, Product Manager.
"It's disappointing to see so many poorly designed banner ads all around the web. We believe that everyone should have easy-to-use tools to create professional content."
The company sees further than banner ads. The latest editor represents a solution for creating all kinds of visuals: static, animated or interactive images for banner advertising, social media networks, websites and personal blogs, and it's compatible with all major networks.
About Bannersnack
Bannersnack launched in 2008 as an online app designed for making banner ads. Today it represents a solution for creating HTML5, GIF, JPG, PNG, MP4 banners.
WIth more than 3 million users and more than 3.5 million banners created, Bannersnack is a leader in its market.
For more information please visit http://www.bannersnack.com/banner-maker/