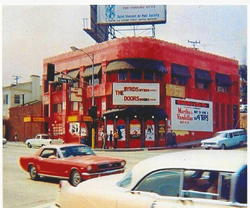 It's so cool to be able to perform on the same stage where so many well-known artists got their start
Los Angeles, CA (PRWEB) July 28, 2016
Hip Hop/Mainstream Recording Artist Dru Ross announced he will make his live concert debut performing at the world famous Whisky A Go Go in L.A. on Wednesday, August 10th. Dru just released a new original single, "Love Simulation" that is moving up the charts.
For this special live concert event Dru will be joined on stage by some of L.A.'s finest musicians including super guitarist Jon MacLennan, session drummer Cam Tyler, Keyboardist/bassist Erik Matthew Garcia and backing vocalists Henry "Scribes" Kleaveland & Heather MacLennan. Dru is scheduled to perform five original tracks from his new EP titled "Love Simulation". "Love Simulation" is also the first single released from his new project. The live music event is expected to get underway at 8:55 PM. The Whisky A Go Go is located at 8901 Sunset Boulevard, West Hollywood, CA. Tickets are available at the Whisky Box Office or online via Whiskyagogo.com.
Dru's single "Love Simulation" is currently making some rather impressive moves at radio including #1 "Most Added" AC40 on National Hits Radio this week.  
The Whisky has a long history in L.A.'s music scene. Dru Ross is thrilled to be making his debut at the famous nightclub on the Sunset Strip.
"It's so cool to be able to perform on the same stage where so many well-known artists got their start," reveals Dru Ross. "I'm thrilled to be performing live and getting out to connect and have some fun with an audience and new fans."
Dru Ross is a poet who transformed into an artist and songwriter in L.A.'s music scene much like another iconic artist, Jim Morrison, with ties to the Whisky who found fame on the Sunset Strip. Dru actually grew up far from L.A. in the small rural town of Goldendale, Washington listening to Marky Mark and the Funky Bunch, The Backstreet Boys, Usher, Justin Timberlake, DJ Jazzy Jeff and the Fresh Prince, Dr. Dre, Snoop Dogg, Jamie Foxx, Eminem and Ludacris. Dru has a musical ear that expands the universe – and the Dru Ross musical sound reflects a variety of creative influences. Dru's hip-hop sound is often compared to Snoop Dogg. Dru gravitates to the positive movements in music – like Taylor Swift and Macklemore.
The new Dru Ross single, "Love Simulation" is now available for purchase on iTunes, Amazon, Google Play and CD Baby.
Weblinks: http://www.DruRoss.com / http://www.twitter.com/DruRossMusic / http://www.instagram.com/DruRossMusic / http://www.Facebook.com/DruRossMusic / https://soundcloud.com/drurossmusic
To arrange press interviews with Dru Ross, contact Publicist Liz Motley at LizMotley(at)me(dot)com.
###
Suggested Tweet:
NEWS: #HipHop recording artist @DruRossMusic to make his debut at famous @TheWhiskyAGoGo 8/10 #LoveSimulation - http://www.DruRoss.com