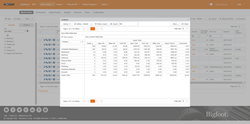 CENTER HARBOR, N.H. (PRWEB) July 27, 2016
Smartware Group, Inc. announced today the latest update to its cloud-based maintenance management software solution, Bigfoot CMMS. The enhancements included within Bigfoot CMMS Enterprise/Enterprise+ 1.7 give users increased reporting and analysis capabilities as well as enhanced data configuration and operational functionality. Bigfoot CMMS Enterprise/Enterprise+ subscribers will be updated to 1.7 in August 2016.
The new Analyzer tool, for instance, provides users the ability to "slice and dice" maintenance data in a table format to more easily understand trends in work order requests and costs using various filters. Such advanced analysis capabilities offer organizations deeper insight into their operations and asset trends, enabling more informed decisions for investment in personnel and equipment.
"Bigfoot 1.7 has been a much-anticipated release by our client base and understandably so," said Annette Hurman, director of operations at Smartware Group. "The sheer volume of enhancements combined with the degree of flexibility and configuration options makes it one of our more robust updates. The 1.7 release, as with all our releases, materializes our mission to produce innovative and impactful maintenance solutions wrapped in a simple and easy-to-use user interface."
Some of the new, built-in reports include:

Asset QR Codes: A list of QR codes may be printed to attach to related assets for easy scanning through the native Bigfoot mobile app for iOS and Android devices.
Certification Reports: Human resources professionals and departmental managers can easily pull certifications by user or by certification type to keep abreast of approaching expiration dates to ensure personnel requirements are maintained.
Among the major configuration improvements, a user's dashboard can now include KPI/chart data drill down, project approval notification, and direct access to favorite reports.
Additional configuration and operational updates allow the application of various cost rules to parts and unlimited terms and conditions to purchase orders. Drag-and-drop re-ordering of lists, such as work order personnel assignments, eliminate manual renumbering. Bigfoot CMMS project management also saw improvements with the addition of associated purchase orders, new fields for budgeted totals, summary details for running totals, and further approval configuration options.
The release of Bigfoot CMMS 1.7 comes on the heels of the launch of Smartware Group's Bigfoot CMMS mobile app in April. The app provides maintenance professionals with easy access to core Bigfoot CMMS functionality through the convenience of their smartphone or tablet. Leveraging a modern interface, users can quickly navigate parts, work orders and assets through the app's QR code or swipe gestures. The app's built-in camera integration also provides users with the ability to upload and associate images to assets, work orders and parts.
To learn more about the major enhancements in the Bigfoot CMMS Enterprise and Enterprise+ 1.7 release, contact Smartware Group for a demonstration today.
About Smartware Group, Inc.
Smartware Group, Inc., headquartered in Center Harbor, N.H., produces Bigfoot CMMS for manufacturing, distribution, data centers, hospitality, mining, and energy & utilities industries.
Since 2002, Bigfoot has helped more than 10,000 users worldwide improve facility and equipment maintenance operations with advanced capabilities that include preventive maintenance (PMs) and predictive maintenance, work order scheduling, maintenance requests, asset life cycle management, parts replacement inventory, and built-in reporting. Bigfoot CMMS' native functionality paired with its intuitive design allows maintenance professionals to implement the solution and get results quickly, often in a matter of weeks.
The Bigfoot solution was named a 2015 "Product of the Year" by Plant Engineering magazine, and previously earned a Bronze Stevie® Award during the 11th Annual International Business Awards in the Best Interface Design category. Experience the Bigfoot difference by accessing a free trial at http://www.bigfootcmms.com/free-trial today.