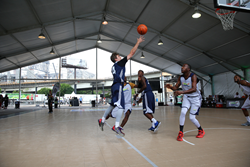 SnapSports surfaces are high-performance courts and the NBA is excited to partner with the SnapSports organization
Dallas, Texas (PRWEB) July 28, 2016
With summer in full swing, so is 3x3 competitive basketball. The Dew NBA 3x Tournament will make its third stop in Dallas Texas, July 30-31, on its six-city tour this summer. The invite-only competition kicked off in Atlanta, making stops in Miami, Dallas, Chicago, Houston and will finish with its final tournament in Los Angeles, Sunday, October 23.
SnapSports Athletic Surfaces will be there every step of the way providing their patented Bounceback® outdoor tournament flooring with patented ShockLock technology. SnapSports' ShockLock system lets individual modules slide, but keeps the entire sport surface fully interlocked. This built-in "give" eases player joint impact and creates a safer athletic surface, making it the obvious choice for the NBA.
"When it comes to NBA fan events, quality, performance, and safety are key," said Patrick Sullivan, NBA vice president of events. Sullivan added, "SnapSports surfaces are high-performance courts, and the NBA is excited to partner with the SnapSports organization"
Dew NBA 3X is an elite 3x3 basketball competition combining unique basketball lifestyle and entertainment elements. Each day of the 2-day event will feature more than 30 selected men's and women's teams. The Championship teams will qualify for the 2017 USA Basketball 3x3 Tournament which qualifies for the NBA global 3x3 Championship. the League's global 3-on-3 platform is part of the NBA's ongoing commitment to growing and celebrating the game of basketball.
The team at SnapSports have been engineering, manufacturing and providing the world's leading outdoor multi-courts, basketball courts and modular sport surfaces for over four decades and has been the official court and tournament flooring for the NBA for several years including events like NBA Nation Tour, NBA Centre Court, and NBA All-Star Jam Session. As the pioneers of the modular sports surfacing and outdoor multi-court industries you play on today, the family at SnapSports continues to develop the most advanced, multi-patented, modular sport surfacing and outdoor multi-courts for top athletes the world over.
"Everyone at SnapSports is proud that the NBA, the world's premier basketball organization, chose SnapSports Athletic Surfaces, over all others, as the 'Official Basketball Court' of NBA3x, This is a testament to the fact that when it comes to durability, performance and player safety, we are unmatched." - Jorgen Moller Jr, CEO SnapSports
SnapSports manufactures 24/7 in their 180,000 square foot ISO 9001:2008 Quality certified facility in Salt Lake City, Utah. SnapSports is the Official Court of DEW NBA 3X, 2016 NBA Centre Court, NBA Nation, 2015 NBA House, NBA 3X, AAU Basketball Jam On it, AAU All Under one Roof, The Big South, The United States Futsal Federation, USA Basketball, Big Mountain Jam, and USA Team Handball. SnapSports is an official FIBA Technical Partner and has been a proud partner of The Special Olympics, The National Veterans Wheelchair Games, The Volleyball Festival, Gus Macker 3X3, World Police & Fire Games and The National Collegiate Roller Hockey Championship to name a few.
SnapSports surfaces are 'Made in the U.S.A. - Played on Around The World™'.