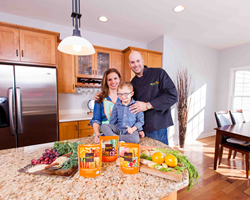 About a year ago I was introduced to Real Food Blends and it's been a game changer for me…the products are easy to use with my feeding tube and full of the nutrition I need." - Augie Nieto, Chairman, ALS Therapy Development Institute
Chesterton, IN (PRWEB) July 28, 2016
Two parents and their mission to find real, nutritious food for their tube-fed son led Julie and Tony Bombacino to create their own blended meals instead of relying on the commercial synthetic formulas typically used for feeding tube nutrition. Seeing their son thrive on real food and recognizing the unmet demand in the market, they launched Real Food Blends, a company that offers 100% real food meals for people with feeding tubes.
Today the company is revolutionizing mealtime for people of all ages with feeding tubes and disrupting the $5 billion growing U.S. enteral nutrition market by making real food a convenient and cost-effective meal option for hundreds of thousands of people from coast-to-coast. The Bombacino's five year-old son, A.J., also continues to rely on real food via tube feedings and serves a very important role in the company, as Chief Inspiration Officer.
"We didn't set out to start a company; we simply wanted to give A.J. the best nutrition possible with the wide variety of all the foods we eat," said Real Food Blends Co-Founder & CEO Julie Bombacino. "When we realized there was nothing like this on the market, we purchased a pricey blender and started experimenting by blending real food ourselves at home. We figured if our son was thriving on our blended meals then maybe we could help other tube-fed people and their busy parents and caregivers. We could have never imagined what a journey this would become or how fast the company has grown."
In 2013, a successful crowd-funding campaign helped get the company off the ground and strategic investors soon followed. Social media coupled with a large void in the marketplace enabled them to scale rapidly by connecting with tube-fed people, caregivers and healthcare providers like never before.
In just two years, Real Food Blends has sold over 1 Million meals and annualized sales are up over 700% since their full launch in June of 2014. June and July 2016 were also record-breaking revenue months, and this young, high-growth company expects things to continue to accelerate and to sell another 1 Million + meals in 2017 alone.
The company's recipe for success includes a strong fan base with loyal customers who love their meals and healthcare experts, including dietitians and doctors from leading hospitals like The Cleveland Clinic and The Mayo Clinic and large Durable Medical Equipment and healthcare companies like Medline, McKesson and Cardinal Health, who all have come to trust the team and brand. (The meals are also covered by most private and public medical insurance plans as a medical necessity).
"As a Registered Dietitian, I love that my clients can pronounce all of the ingredients in their products (they're made with real food!) while leaving out corn syrup, additives or preservatives – I know exactly what is (and is not) in their meals," said Deborah Malkoff-Cohen, a New York City based dietitian working with many tube-fed patients. "Real Food Blends makes real food an easy option so my clients do not have to solely depend on traditional synthetic formulas or blending themselves. Real Food Blends is also the first to introduce true variety into the blended pre-made food arena; they currently have 3 different meal options where traditionally tube-fed people had to rely on the same synthetic formula day after day after day."
The best feedback comes from kids and adults who rely on the meals and the caregivers that see the changes in their loved ones. "About a year ago I was introduced to Real Food Blends and it's been a game changer for me…I noticed an increase in energy after making the switch, the products are easy to use with my feeding tube and full of the nutrition I need", said Augie Nieto, the Chairman of the Board of the ALS Therapy Development Institute and Chief Inspirational Officer for Augie's Quest, a non-profit he founded in 2006 after being diagnosed with ALS. Augie's Quest has raised over $45 million to fund ALS research.
The overall tube-feeding nutrition market is expected to grow to over $6 Billion in the U.S. alone by 2020. This market growth is primarily being fueled by medical advances improving the life expectancy of people with many conditions that require a feeding tube like certain cancers, ALS, cerebral palsy, cystic fibrosis and more. Beyond this general market growth, Real Food Blends is benefiting from a growing number of insurance companies offering coverage for the meals as a medical need and continued global trends that have people learning and caring more about their nutrition. Based on these trends and the new products they have in the pipeline, the company expects continued exponential growth in 2017 and beyond.
"We're excited about the success we've had so far and the new products we have in development," said Co-Founder & CMO Tony Bombacino. "The best part about this company and journey is hearing from so many tube-fed people and families like ours who are able to enjoy mealtime and real food again. Beyond the numbers, that's real success to me." Bombacino also gives a voice to special needs dads and male caregivers through his blog on RealFoodBlends.com. "To me, Real Food Blends is more than a business, but rather a movement and platform to honor our son and help many others worldwide."
Real Food Blends currently offers three meal options: Salmon, Oats and Squash; Orange Chicken, Carrots and Brown Rice and Quinoa, Kale and Hemp – and due to demand and a belief in continuous innovation, the company is scheduled to soon release a new meal in September 2016.
ABOUT REAL FOOD BLENDS
Real Food Blends was born from Julie & Tony Bombacino's love for their own tube-fed son and a belief that we all deserve real food. The company makes 100% real food meals that are blended to go through feeding tubes. The meals are shelf stable, free of corn syrup and preservatives and are covered by many insurance plans. With over 1 Million meals sold in the United States and Canada, they are available nationwide through DMEs and medical supply and home healthcare companies or direct via RealFoodBlends.com and Amazon.com.