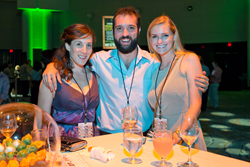 New Orleans, LA (PRWEB) July 29, 2016
Exciting, hands-on social events for food and cocktail connoisseurs will be offered at the Farm to Table Experience, August 18 - 20, 2016 at the New Orleans Ernest N. Morial Convention Center.
Events include:

The Chefs Taste Challenge is a fun, fresh take on a food competition aimed at broadening awareness for the use of fresh, healthy sustainable ingredients in preparing food. Ten chefs from across the country will be selected to prepare a dinner entrée tasting course for approximately 500 guests. The dinner is a competition and attendees will be asked to vote for their favorite dish. The chefs will be able to select their ingredients from a list of items that are fresh and in-season in areas across the country. (August 19, 6:00 p.m wine reception hosted by Bonterra Wines; 7:00 dinner competition begins.)
Culinary Master Series: Lunch & Learn cooking classes with notable New Orleans chefs Miles Landrem, Executive Chef of Johnny Sanchez (Friday) and Phillip Lopez, Executive Chef of Root and Square Root (Saturday). Not only will you gain valuable insight and education from your chef-turned-culinary coach, but you'll enjoy reaping the fruits of your labor too. (Friday August 19 and Saturday August 20, 12:00 p.m.)
Garden to Glass Networking Reception: This event will showcase the invention of creative cocktail-making using farm-fresh ingredients. Top local mixologists from Meauxbar Restaurant and Arroser NOLA; Treo; Angeline; Emeril's; Catahoula Hotel and Chais Delachaise Wine Bar and Bistro will instruct attendees on how to use fresh produce, backyard herbs and local products to create these delicious cocktails at home. Each participating mixologist will include at least one ingredient that is grown from a seed, is innovative in taste, and is easy enough to recreate (recipe cards will be provided as take-aways). (August 18, 5:00 p.m.)
In addition to the social events, the Farm to Table Experience will feature Keynote speakers of national and international standing, A bustling marketplace to network, panels on best practices in the following educational tracks:
Grow Your Food (Farming & Home Gardening)
Crop to Cup (Brewing, Distilling, Vinting, plus non-alcoholic beverages)
Cooking Fresh (Cooking Demonstrations)
Farm to School
Food Innovation & Trends
This three-day, multi-track experiential learning event is open to the public, and registration types for every schedule are available.
To register, visit: http://f2texperience.com/registration/