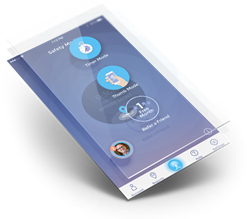 "LifeLine Response is the crucial link to emergency services not currently available in the nation's 9-1-1 mobile system," said Davies.
Chicago, Illinois (PRWEB) July 28, 2016
LifeLine Response, a government grade, personal safety platform with global capabilities used by Fortune 1000 Corporations, Hospitals, Universities, Municipalities, Governments and Consumers, today announces a newly formed advisory board to offer guidance as the company continues in European and Asia markets, expanding its enterprise and consumer presence.
The new board brings LifeLine Response thought leaders from influential and complementary industries, as the leading personal safety company's proprietary algorithms and data offer proactive threat intelligence including geopolitical instability and local security threats; an unparalleled source of data in the industry.
To advise on the company's continued global expansion, LifeLine Response welcomes Mark Davies, Chief Financial Officer for the leading smart-home security provider, Vivint Inc. Davies brings his passion for helping people to be safe and knowledge of global business transformation to the team. Prior to Vivint, Davis served as Executive Vice President of Alcoa where he was responsible for leading an integrated organization with more than 2,000 employees in 20 countries. Before Alcoa, Davies helped lead the global business transformation during his 12 years at Dell, Inc. and served as Chief Financial Officer at Global Consumer Group.
Another notable board member joining the team is Keith Sherwell, Chief Information Officer for telecommunications firm, Cablevision Systems Corp. In his advisory role, Sherwell is responsible for conceptualizing and implementing technology strategies to further develop Lifeline Response's business objectives. Previously, Sherwell was Chief Information Officer at Office Depot International where he was a crucial advisor for the brand during its merger with Office Max in 2013.
With his background in corporate and government security, Gaylen Heyborne also brings great perspective to the LifeLine Response team. As Director of Corporate Security for Groupon Inc., Heyborne understands the importance of using advanced technology to protect people both inside and outside of office walls. Heyborne was a Counterintelligence Agent for the US Marine Corps from 1987-1995 before entering the corporate world with such roles as Executive Protection Agent at Vance International, Director of Executive Protection for Wm. Wrigley Jr. Co. and President and Director of Operations at Carthage LRI LLC.
"LifeLine Response is empowering consumers & global companies to feel safe in everyday routines by offering a crucial link to emergency services not currently available in the nation's 9-1-1 mobile system," said Davies. "I'm looking forward to helping the company continue its global accelerations so that more can feel safe by using LifeLine Response's sophisticated, yet consumer-friendly, technology."
Additional LifeLine Response advisors include:

Terry Savage: Personal finance expert, author and CME Group Board Member
Michael Harshfield: Technology consultant for Fortune 50 organizations
Art Bielski: Founding partner of Gamma Partners
Mark Baker: Former SVP of Global Sales at Urban Airship
Scott P. Seder: Attorney and technology law thought leader
Michael Hubbard: Global Vice President of ServiceNow Inspire
"This advisory board brings together key industry expertise and networks to usher LifeLine Response through its next phase of growth and innovation," said Peter Cahill, Founder and CEO of LifeLine Response. "We are pleased to have such a robust group of leaders who will bring their insights and experience to help maintain LifeLine's position as the industry leader in personal & global security. We are in the business of saving lives, and I'm grateful to have the talent of this board to continue our growth and make a positive impact globally." LifeLine Response currently has more than 2.3 million users worldwide.
About LifeLine Response:
LifeLine Response is a Government grade personal safety platform that adds a layer of personal security to corporate workers, hospital employees and student's everyday routines from the convenience of a smartphone or Apple Watch. It fills the missing link to the emergency services network, providing 9-1-1 & global equivalents with a user's exact location and other crucial details when help is needed, even if the user is unable to call. It operates two 24/7 Critical Response Verification Centers (CRVC) in Erie Pennsylvania and in Abu Dhabi, United Arab Emirates. To learn more, visit LLResponse.com.